Spotted by us: a genius TikTok kitchen scale hack you need to try. Because TikTok isn't just for dances and makeup trends – you can also pick up some game-changing life hacks when scrolling through your For You page. Case in point is the latest trick I picked up, which shows the best way to measure out cooking ingredients with digital scales. I always thought I knew how to measure out my baking ingredients, but oh, how wrong I was.
Prior to this kitchen scales TikTok hack, I've always placed a bowl on my digital scales, and set it to zero before filling it with the desired quantity of flour, butter, or anything else. Then I'd add this to my mixing bowl and chuck the measuring bowl in the sink to be washed later. It turns out this creates unnecessary washing up, and I've been wasting my time for years when there's one simple way to cut out the middle man.
As revealed by TikTok user @weightloss_beth, there's been a smarter method all along. While the trick won't work with all of the best kitchen scales, it's incentive enough to invest in a digital model.
TikTok kitchen scale hack: how to do it...
Simply place your ingredient container on the scales (be this a bag of sugar or block of butter) and then set the scales to zero. Then, scoop ingredients out of the container and into your mixing bowl until the scale hits minus the amount you need, -125g, for example. The bag of sugar weighs 125 grams less than it did when you put it on the scale, your desired quantity went straight into your mixing bowl, and you just saved yourself some washing up.
One thing to keep in mind when weighing out your ingredients is to wait until the weight on your scales display has adjusted before adding to your bowl. This will mean you don't add too much to the bowl, because once it's in and added to your cooking mixture it can be hard to take back.
The hack works well for those on a diet or who are tracking their calorie intake, but it's also a valuable trick for avid bakers and home chefs. All you need is a digital scale, which can be cheap and also easy to find online. Below are our top picks.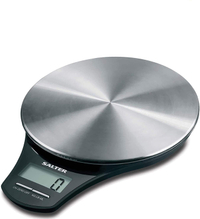 Salter Stainless Steel Digital Kitchen Weighing Scales | £22.81 at Amazon
These classic Salter digital kitchen scales allow you to set to zero and have plenty of space for placing bags of flour and more on top. With a 5kg maximum capacity and clear LCD display it's a must-have for any kitchen.