This weekend we're cleaning windows. Yup, we've been more or less housebound all week, thanks to lockdown and the weather, and we've been staring longingly out of the windows. Or we would have done if we could see through them. Our windows need cleaning. Badly.
But, we're not really into elbow grease and day-long cleaning jobs – we've worked hard all week, you know? So, imagine our joy at discovering Wayfair's window cleaning set (opens in new tab) on sale! Yes! We've tried this gadget before and, though it's a basic bit of kit, it's what your window cleaner (if he/she ever gets back on their round) would approve of. In other words, it does the job brilliantly, especially because it might just save you climbing a ladder to reach the higher parts of your windows (we'd avoid climbing ladders at all costs at the moment, people).
And, it's on sale – down from £25.99 to £22.99. Bargain. Keep scrolling to find out more.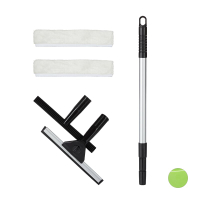 (opens in new tab)
Wayfair's window cleaning set: was £25.99, now £22.99 (opens in new tab)
This five piece window cleaning set is suitable for professional glass cleaning. It has five-pieces including a window washer, squeegee, covers and telescopic handle. The extendable rod allows you to reach higher windows (it adjusts from 58cm to 132cm) without the risk of a wobbly ladder. Wash the window, pull it off and then wash the covers for reuse.