Aldi's home accessories have just gone up even higher in our estimation thanks to this gorgeous knitted stool... we're obsessed with the crochet top cover. Why? Because 1) it looks SO comfy, and 2) it's super stylish, and 3) it's super cheap.
It's the ultimate (budget) way to jazz up a bedroom by incorporating a range of different textures and colours and, boy, does this knitted stool do the trick! Softening the look of your bedroom design with a chunky knitted texture in a soft cream tone is a great trick. Practical and on trend – it's this year's Insta-must-snap!
Keep scrolling to discover more fabulous crochet buys, both in the form of footstools and beanbags – and then hop over to our bedroom ideas page for more gorgeous design inspiration.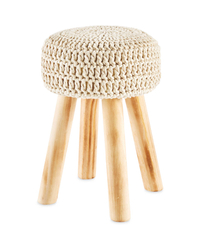 Grey Knitted Stool, £14.99 at Aldi
This cute and stylish Grey Knitted Stool is a lovely accessory to have around the home. Made from 100% FSC® wood with a crochet styled top, this is a practical little stool that can help you reach taller places or provide a quick temporary seat.
Can't get it? Keep scrolling for more.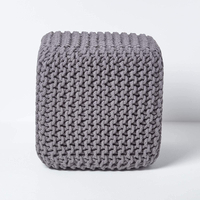 HOMESCAPES Grey Knitted Cube Footstool | £33.99 from Amazon
Choose from a whole load of colours from hot pink and teal to grey and linen. We love the cube design and the chunky knit material. Super contemporary and ideal for nurseries, living areas and bedrooms.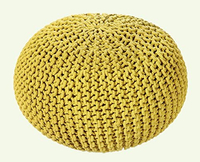 EHC Round Handmade Double Knitted Foot Stool | £34.99 from Amazon
We're big fans of these legless knitted footstools for their relaxed, beanbag feel. For a great price, you can give your living room or bedroom a dedicated chill out spot. With a range of colours available, this is a fab buy.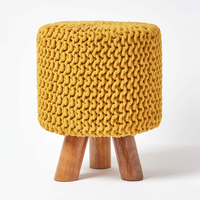 HOMESCAPES Mustard Cotton Knitted Pouffe | £43.99 from Amazon
This footstool is the perfect occasional seat, with a structured frame for a long lasting piece of furniture. The knitted seat cover is made from 100 percent cotton so look forward to maximum softness. Homescapes offers loads of fab knitted footstool cubes and pouffes. Check them out!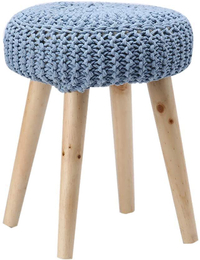 4-leg Solid Wood Stool | £90.10 from Amazon
Minimalism with a touch of flair, thanks to the knitted seat. This seat available on Amazon has four legs for extra sturdiness. The powder blue colour is so beaut and we love the way it is removable, making for a versatile look and easy cleaning!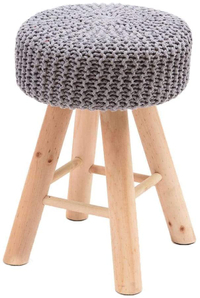 ZHFEL Ottoman | £103.98 from Amazon
Available in a range of colours including green, orange and mustard, this ottoman knitted stool is the ideal feature furniture for a room in need of extra make-shift seating that can double up as a stylish accessory. Strong and durable wood, with a removable seat for easy cleaning, this is a buy that you won't struggle to maintain.
Read more:
Bedroom design: all the style advice and inspiration you need to design a bedroom