If you want to sleep well, stay chilled out in the living room, and cook without breaking into a sweat in the kitchen, then a great fan should be on your to-buy list. And there's no better time to buy than now when the best fan we've tested is up for grabs with a brilliant saving of up to $70.
The Dyson TP04 Pure Cool Fan (opens in new tab) isn't just a room-cooling fan either. It actually purifies the air as well, removing 99.95% of particles.
We put this fan at the head of the field for a whole host of reasons. Read on to find out why – or just buy now!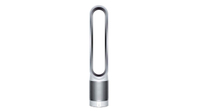 (opens in new tab)
Dyson TP04 Pure Cool Fan, Was $569.99, now $499.99 (opens in new tab)
This fan doesn't just cool the air but cleans it too. Scroll down to find out more.
What's so great about this fan? Let's start with its 10 speed settings, which make it finely adjustable to suit the conditions of the space in which you're using it. Even better, you don't have to get up from your couch, desk or bed to adjust it. This is a smart fan, so you can control it from your smart phone, or use Amazon Alexa. Prefer a remote? It's got one of these, too.
We also love this fan because it can clean the air. It captures both allergens and pollutants in its filter system, and it's certified as asthma and allergy friendly by the Asthma and Allergy Foundation of America.
Kids and/or pets in your home? You'll be delighted to hear that it's a bladeless design – which brings another benefit. Yes, without blades, keeping your fan clean is so much easier.
The noise level of a fan is important, especially when you're trying to sleep. At the lowest speed setting, the fan is around 40dB, so you can keep things quieter.
Our verdict? If you're looking for a multi-functional fan that produces cold air and purifies the room at the same time, this is a buy not to be missed.