Looking for last minute Christmas gift ideas? Well, luckily for you, we're the queens of the stocking filler and, boy, do we have an idea for you. Perfect for film buffs and box set bingers, the Google Chromecast gives a standard TV smart capabilities, at a fraction of the price of a TV upgrade. All your giftee has to do is plug it into the back of their TV and they're sorted. Smart, eh?
Yep, with the help of this handy streaming device – one of the best according to our testing – the Google Chromecast provides instant access to all of your favourite streaming platforms including Netflix, Google Play, BBC iPlayer and YouTube, without the need for connecting laptops, fitting satellites and the like.
Plus, it's currently just £20 as party of the Currys Crimbo deals, which we think makes it the perfect stocking filler. After all, who wouldn't appreciate easier access to their favourite films, TV series and more? Especially during that gap between Christmas and New Year where all you have to do is sit back, relax and watch repeats of the Gavin & Stacey Christmas special...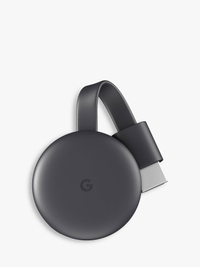 Google Chromecast | Was £30, now £20 | Save £10
Transform any TV into a smart TV using this handy little device. Yep, seriously. You won't need any satellites, cables or other expensive sounding technology. Simply plug this baby into the back of your screen, connect to the WiFi and watch Netflix, YouTube and more at the click of a button. Perfect Christmas present, too, at that price.
Looking for more gift ideas?