If you're on the look out for stocking filler ideas, you've come to just the right place: we've rounded up a bunch of fun sized gifts to make your loved ones wow and aaah... We've taken the trouble to get the best pick of stocking fillers for everyone in the family, whether they like gardening, home decor, photography or can't stop playing video games.
With Christmas creeping up, it's time to start shopping in earnest. You've probably got an idea of what you're going to get those people closest to you, but if not, why not use our gift guide for some inspo?
1. Just in time for New Year
You might need to cram these in the stocking, but for anyone who loves entertaining they're a must-have. Mix up your glassware with this set of honeycomb Champagne glasses. Hand finished in four different foilings, from gold to silver, copper and pewter, there are wine glasses to match. The only way to drink Champagne this Christmas, right?
2. A must-buy for that gallery wall
This cute family names print is available in both A4 and A5 sizes, and will look lovely on a bedside table or hung in a hallway as part of a gallery wall display. Also, who doesn't love a personalised gift?
3. One for the teens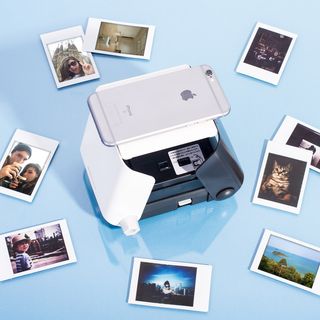 Turn your phone's photos into vintage print-outs in seconds with this instant photo printer. With no cables, Bluetooth or WiFi needed, you simply just place your phone (with the picture you'd like to print on the screen) on top of the printer, press the shutter dial, rotate the dial and voilà. Oh, and it's also available in jet black, cherry blossom pink and sky blue.
4. A touch of luxurious home scent
Part of the Neom Scent To De-Stress™ range, the London Real Luxury diffuser certainly won't disappoint. Made from a blend of 24 different oils which are all 100 per cent natural, organic and cruelty-free, Neom are also vegetarian-conscious and aim to use minimal chemicals. It made our round-up of the best reed diffusers, so we know it's good, too.
5. For home lovers who love to snuggle on the sofa
The perfect addition to any sofa or bed, this chunky blanket is available in three different colours light grey, dark grey and khaki. Featuring a twisted rope-style tassel detail on two sides, the blanket is soft and will keep you warm all winter.
6. Somewhere to put your copy of Real Homes magazine
Need somewhere to store your latest issues of Real Homes and Period Living magazines? This contemporary wall mounted magazine rack will jazz up any living room.
7. A gouda gift for cheese lovers (sorry)
We probably eat more cheese (and everything else) around Christmas and New Year, so this cheeseboard will be a welcome stocking filler. Made from wood, it has a glass cover to keep your cheese fresher for longer. The stuff of dreams…
8. For gamers and boxset lovers
Know someone who's desperate to get into gaming – or just catch up on the latest must-see films and boxsets? The Google Chromecast Ultra will allow your giftee to stream Netflix, Youtube and much more, all on your 4K TV. Interested? Read the full review from our mates at TechRadar for the full tecs and specs.
9. The best Bluetooth speaker you can buy
A great gift for a teenager who likes to blast their music, this UE Boom 2 wireless speaker isn't only the best Bluetooth speaker around, it's now really resilient, thanks to being made waterproof (handy for when they inevitably drop it down the loo/in the bath/in the shower).
10. For grandma (you know what she's like)
Complete with an Acacia wood serving board, these shot glasses naturally infuse shots with a subtle salt flavour, so you'll never have to lick your (or anyone else's) hand during a tequila shot again. It's a huge bonus that they look good.
11. A gift for your home
A gift for all the family, this Chalk Board And Magnetic Noticeboard With a Key Rack is something you never knew your hallway was missing. Whether you want to use it for inspirational quotes, jokes, your word of the day, shopping lists or reminders... you can make it your own! There are also hooks below for keys or a dog's lead. Handy.
12. One for the green fingered
Know someone whose obsessed with house plants? Fuel that obsession with this
Clustered Cube Succulent Cactus Terrarium. Fill it with your fave succulents, plants or even make it your own with jewellery or spices... It's the perfect gift for gardeners and everyone who loves a display with flair!
13. For the family cheat
Everyone has one big fat cheater in their family when it comes to playing board games, so here's their chance to shine. This Monopoly game tests how long you can get away with cheating for, and whoever cheats the most wins! Certainly worthy of a Christmas Day play we think.
14. For plant powered people
Vegan, or thinking of going vegan for your New Year's resolution? This book will help you out by offering 100 plant-based lunch recipes which aren't just easy to make, but affordable too. Tofu sushi, anyone?
15. For tea lovers
An ideal gift for that person who always has a cuppa in their hand, this pretty Bistro Tiled Mug has a personalised touch with their initial on, and you can get a coaster to match.
Need more Christmas gift inspo?