A gas fire pit is a simple and stylish way to heat your backyard, keeping you cozy throughout both the summer nights and the winter days. Fire pits come in several fuel types – to check out your options, head to our edit of the best fire pits.
If you want the control and security that gas fire pits offer, you are in the right place. Where charcoal and wood fuelled models can get messy and smokey, gas fire pits require the simple flick of a switch, and from there, you have full control.
We've searched for the best gas fire pits and the best deals on the market at the moment, so you can create a new focal point and make the most of your garden, whatever the weather.
Best gas fire pits in the US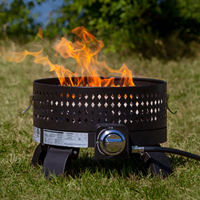 Maverick portable steel gas fire pit | Was $159.99, now $97.99 at Wayfair
This portable gas fire pit is 15 inches in diameter and has spring-hinged legs, perfect for fitting into your trunk for a camping trip or picnic on the beach. That intricate steelwork will look just lovely in your backyard too, making this a real all-rounder.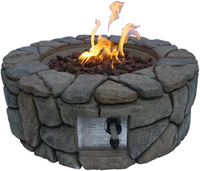 Peaktop round stone-effect gas fire pit | Was $314.77, now $292.99 at Amazon
Get those authentic, back-to-nature vibes with this stone-effect gas fire pit. A rustic and laid back addition to your space, it's perfect for huddling around with cozy blankets after sunset.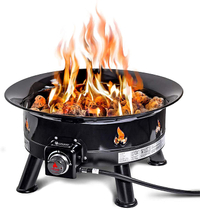 Outland Firebowl 883 outdoor gas fire pit | Was $136.95, now $122.74 at Amazon
This robust, no nonsense frame is 24 inches in diameter, giving off enough heat to warm the whole family. Comes complete with a 10 foot hose so you can hide your gas cylinder out of sight.
Best gas fire pits in the UK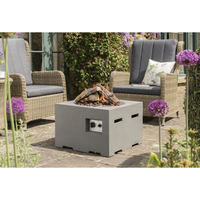 Monica gas fire pit | Was £699, now £629.99 at Wayfair
This sleek and simple box design is perfect for a modern patio. Taking the place of a coffee table, the gas fire pit is weather resistant so you can leave it outside, even when it rains.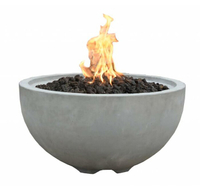 Rylan bowl concrete gas fire pit | Was £449, now £419.99 at Wayfair
This large round gas fire pit is sure to become a focal point in your space. Comes with auto safety shut off, and a cover for protecting it throughout the colder months.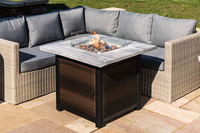 Peaktop gas fire pit | Was £350.97, now £340.97 at Amazon
Who wouldn't want to be sat here right now? This gas fire pit–come–coffee table is a piece of furniture in itself. The clever perspex glass screens create a safety barrier, protecting you, and keeping your flame alive in windy weather too.
Read more: