Wondering what to give your teen for Christmas? Finding something that won't make them roll their eyes isn't easy... so we asked Real Homes' resident (sort of) teen, Lola Houlton, what the must-have, no fail-gift is this Christmas. Here's what she told us, without hesitation, and why.
Find more gifts for teens in our guide.
'This Christmas everyone wants Nike Air Force 1 Sage. Yes, we know we've all been wearing what looks to you like identical Nike Air Force for a couple of years – but these new ones are a bit different,' says Lola. 'Firstly, I've heard they're not supposed to crease as much as the older Nikes, so will stay looking newer for longer, which is what we all basically care about the most; and secondly, they've got a bigger wedge and a bolder look.'
We're not arguing. There are no deals on them at the moment – they're pretty much £85 everywhere.
Want more? Lola keep scrolling to see Lola's other recommendations: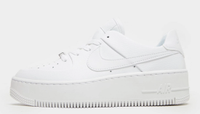 Nike Air Force 1 Sage, £85 at JD Sports
These trainers come in more than just classic white – there's pink, red, yellow, beige, khaki and black – but Lola says white's the fan favourite and that anything other than white will date quickly.
The rest of Lola's top five teen Christmas gifts:
More Christmas gifts you can't go wrong with: