If you've ever spent the day lusting over MacKenzie-Childs and the brand's whimsical country-charm one-of-kind handmade pottery, you're not alone. We're right there with you (alongside Kris Jenner and Kourtney Kardashian, as well).
The imaginative, playful print is escapism at its best — and after 16+ months looking at the same home décor items (thanks, COVID), there's never been a better time to upgrade. And, right now: you can, and at up to 70% off.
From now until August 1st, the MacKenzie-Childs Barn sale is taking place, and there are so many spectacular selections marked down.
So, whether you are looking for the best armchair or perfect pillow, there are dozens of options up to grabs.
Plus, to help streamline the process, we've gone ahead and rounded up the seven can't-miss items feature in the sale.
7 MacKenzie-Childs pieces to shop
1. A casual-yet-clearly-elegant cake carrier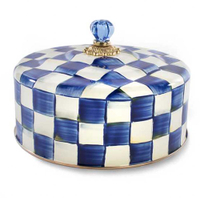 Royal Check Enamel Cake Carrier l Was $208, Now $124.80, at MacKenzie-Childs
Admittingly, I am a bit biased here: the royal blue, royal check print is amongst my personal favorites — and factor in the versatility that comes with this piece? It's now at the number one slot. Everything from cookies to hors d'oeuvres can be wrapped up, transported, and presented in the casual-but-clearly-dramatic elegance of this cake carrier. Sold!
2. A vibrantly fashioned accent chair — that's worth every penny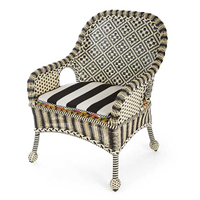 Courtyard Outdoor Accent Chair - Bathing Hut l Was $2,295, Now $1,725.71, at MacKenzie-Childs
I know, I know: over $1,000 on one of the best armchairs does not exactly sound like a sale to you — but stay with me for a second. When you think about all of the cheap versions you have wasted money on over the years and examine the intricate hand-woven design, you will see why this chair is a worthwhile investment. Or, at the very least, add it to your wish list (like I did!).
3. This cozy-chic mattress your furry friend deserves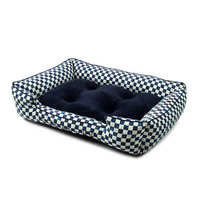 Royal Check Lulu Pet Bed - Large l Was $248, Now $173.60, at MacKenzie-Childs
Years ago, my brother set a precedent that our puggle (Emma) was the queen of our home; and needed to be treated as such. Enter: only the best pet mattresses; suffice to say, this checkered choice is an essential addition (to her already stacked selection), making it a worthwhile throne for every other furry friend out there.
4. A stylishly sleek mug, to make your new morning must-have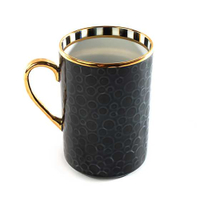 SoHo Mug - Midnight l Was $92, Now $55.20, at MacKenzie-Childs
Master mornings in style with the help of this handcrafted texturized mug. Featuring a combination of both matte and gloss, this midnight black printed piece showcases a golden rim that's anything but basic.
5. Brighten up your space with this boho-chic choice
Boheme Lamp l Was $378, Now $278.60, at MacKenzie Childs
Free-spirits rejoice! This hand-painted multi-colored lamp features ikat-style motifs and stripes that are the boho-chic choice you'll need to light up every room.
6. Think pink with this table that will leave everyone blushing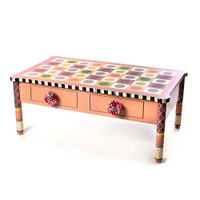 Dear Heart Cocktail Table l Was $4,995, Now $2,997, at MacKenzie Childs
There's nothing in life I hate more in life than the color pink, but when it comes to this cocktail table? I am reconsidering my mindset. Designed in a pretty pink hue, the inside features fabulously floral wallpaper, as the outside showcases two velvet flowers, deeming this investment table one of the best home buys.
7. An inviting fragrance to make your home's new signature scent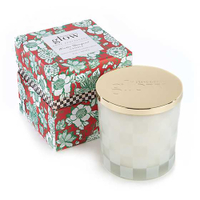 Winter Bouquet Candle - 21 oz. l Was $88, Now $48, at MacKenzie-Childs
I spend a majority of my week writing about the best candles, so at this rate, I think I can confidently say: I know a worthwhile candle when I see one. And, right here, right now: we've met our match. With a burn time of up to 66 hours, this palm and the paraffin-blended candle will be your signature scent all winter long.
Love MacKenzie-Childs? Check out more suggestions on sale below: