Streamlining my wardrobe has always been a walk in the park; it's second nature.
Classics such as a white tee and well-fitting pair of jeans will always surpass any item trending at the moment, and it's my common sense that continuously steers me away from making any impulsive purchases.
However, when it comes to furnishing my space and choosing the best home décor pieces? Well, I can't exactly say my instincts are so spot-on.
Admittedly, I'm repeatedly gravitating towards the latest-and-greatest trends, despite knowing the optics are rarely ruling in my favor. My problem is: I love everything.
Purple pieces I haven't seen since middle school: check! 80's-inspired fringe: you got it! Mushroom lamps that will most definitely be out-of-style by the time the retailer ships it: guilty!
As a result, my apartment is chaos – organized chaos — but chaos, no less. And, as I inch closer and closer to my 30's, I've realized it's time to invest in home décor the same way I invest in my wardrobe, meaning I need prospects that last longer than a season (at best).
I require not only a professional's help but some professional insight; a blueprint of sorts of what to drift towards and what to flee from — and that's exactly what I got.
To help guide me to the good and away from the bad, I've turned to a handful of home experts and top interior designers to share their best home purchases ever and why they love those home décor pieces so much, hoping it will inspire some smart shopping of my own.
Wondering who loved what — continue scrolling to see!
1. Natalie Papier
Natalie Papier is an artist, designer, and influencer, most notably recognized for running her vintage and eclectic interior design company, Home Ec.
Follow her on Instagram @home_ec_op
Natalie's best buy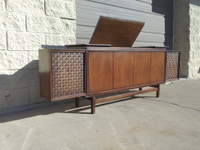 1960's Mid Century Packard Bell Stereo Console for $4,995, at Etsy
"The vintage, mid-century record player console is by far my favorite purchase. Not only is the design classic that looks incredible on its own, having the ability to throw a dance party by simply putting on a good record makes a functional piece FUN. And I'm all about bringing that kind of joy into our home," explains Papier.
2. Bobby Berk
Bobby Berk is a design expert & Emmy-nominated TV host known for his work on Queer Eye. He also leads his eponymous brand, which includes lifestyle destination BobbyBerk.com
Follow him on Instagram @Bobby
Bobby's best buy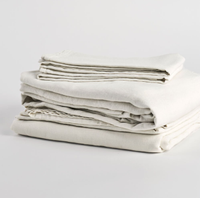 Vintage Linen Sheet Set starting at $385, at Matteola
"We spend so much of our lives in bed that a great set of sheets is truly a must. And nothing is better for a great night's sleep than super soft linen (that will only get comfier over time). I love this set from LA-based brand Matteo that's been garment-washed to give it a vintage feel and comes in 7 great-looking neutral colors. You're literally going to use them every night, so treat yourself to sheets that are going to feel great - and last for many years to come," explains Berk.
3. Tiffany Brooks
Tiffany Brooks is a wife, mom, and lead interior designer and principal of Tiffany Brooks Interiors. Located in the northern suburbs of Chicago, her mission is to create stunning living environments that encompass a client's individual needs and unique style.
Powered by her passion and her client's taste, Brooks seeks to uncover the flavor, personification, and soul of each client's home. Additionally, she is the host of HGTV's Smart Home Giveaway series and soon to star in her own show, $50k Three Ways, coming in 2021.
Follow her on Instagram @tiffanybrooksinteriors
Tiffany's best buy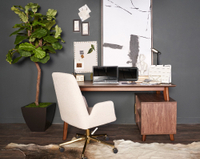 Union & Scale MidMod 60" Storage Desk, Espresso l Was $249.99, Now $199.99, at Staples

"After spending so much time working from home this past year, I'm so glad I invested in a dedicated space for work. No matter how much room you have for your home office, whether it's a full room or just a corner, a separate space that is dedicated [to working] is critical. It helps you stay focused and be more productive, and also helps create a physical and mental divide between 'home life' and 'work.' I'm also all about streamlining my workspace. So, I love this MidMod desk from Staples with sleek lines and plenty of storage to de-clutter my workspace," explains Brooks.
4. Sarah Sherman Samuel
Sarah Sherman Samuel is a multidisciplinary designer who currently splits her time between Los Angeles, California, and Grand Rapids, Michigan. Her holistic design approach spans interiors, textiles, products, and decorative arts. A color and pattern expert, Sarah is known for effortlessly combining styles to create distinctive spaces, coveted products, and artful images that have been shared and repinned by millions of Pinterest users.
Follow Sarah on Instagram @sarahshermansamuel
Sarah's best buy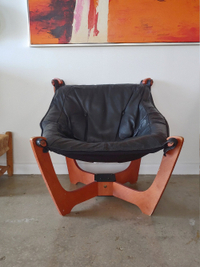 "This vintage Luna chair is my favorite recent purchase. I've wanted one for a while and found it on Etsy. It's perfectly aged, sculptural and SO comfortable," Samuels explains.
See similar vintage chairs available at Etsy, here. Also, be sure to check out her Etsy Edit here!