Stuck at home and thinking about improving your kitchen skills with some online cooking classes? While we don't think there should be any pressure to be productive in this time of global crisis, there is something to be said for finding comfort in hobbies, which is why we're currently loving the online cooking classes that have been popping up over the internet of late.
From lessons from the world's best-known chefs to the joys of Florence Pugh's Instagram stories, our screens are truly delivering the goods. Looking for some ideas to improve your cookery skills? We've listed some of our favorite online cooking classes below for you to play along with. Enjoy!
Masterclass
Masterclass is a huge online learning hub with classes on everything from writing to science to the culinary arts (we've listed our favorite food-based offerings below). You'll find lessons from everyone from makeup artist guru Bobbi Brown to tennis champion Serena Williams and The Handmaid's Tale author Margaret Atwood. Impressive, right?
In many cases, you can buy access to a single class, but if you're planning on completing a course or watching more than one class, it makes financial sense to purchase an All Access pass. At $180, it's an investment – but you get access to every lesson and course on the site, including the aforementioned big names.

Gordon Ramsay Masterclass | $80 for a single class
Learn the kitchen basics from the master of angry cooking, Gordon Ramsay. From setting up your kitchen to choosing the freshest ingredients and perfecting your knife skills, his culinary lessons are suited to beginners and seasoned home cooks alike.

Wolfgang Puck Masterclass | $80 for a single class
Fancy picking up a new dinner party recipe – you know, for when we can invite friends around again? Award-winning chef Wolfgang Puck's masterclasses are for you. From tuna sashimi to cocktails, he'll show you how to perfect a signature dish – and create recipes of your own.
Airbnb
You know Airbnb best as the place to go for cheap vacation stays around the world, but did you know they've launched an online experiences portal, too? Stemming from the host-led experiences you can add on to a stay, you can now take part in all kinds of activities from tango lessons to magic tricks. It's also a great place to go for cooking lessons on a smaller budget: you can get an afternoon's worth of entertainment for under $20. Check out our favorites below, and explore the site for more – there's plenty out there to get you cooking confidently.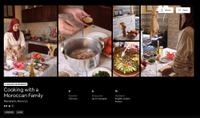 Cooking with a Moroccan Family | From $14 per person
This is a true Airbnb Experience coming straight to your screen. Follow a Moroccan family as they teach you how to cook the local cuisine, sharing tips and techniques along the way. Plus, you'll come out of it with a delicious chicken tagine – what more could you want?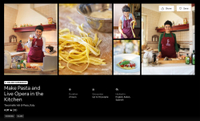 Make Pasta and Live Opera in the Kitchen | From $17 per person
Everyone's making sourdough and banana bread right now, but why not go a step further with this homemade pasta-making lesson? Learn the ropes from a Florentine family, and be treated to an operatic musical surprise in the process.
Udemy
With 100,000 video courses to choose from, Udemy is a great option for anyone looking to learn a new skill – and they're currently offering a 48-hour flash sale, so classes are cheaper than ever. Even without the sale, though, it's still excellent value – many courses offer a package of videos, downloadable resources and articles so you get a well-rounded approach to your chosen subject. We'll see you on these cookery courses...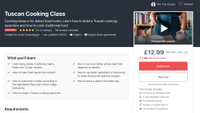 Tuscan Cooking Class | Was $64.99, now $11.99
Take lessons from food writer, author and instructor Giulia Scarpaleggia in all things Tuscan cuisine in this immersive course. You'll learn how to make pasta, main and side dishes, plus a delicious dessert – currently a heavenly olive oil cake.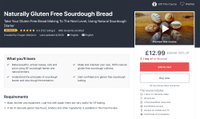 Naturally Gluten Free Sourdough Bread | Was $39.99, now $11.99
We couldn't write this article without a mention of everyone's beloved sourdough, could we? From sourdough science and starters through to your finished loaf, this step-by-step guide puts a gluten-free spin on it.