The moment we have been waiting for has arrived. No, not the announcement that all kids are going safely back to school. It's better than that: the Aldi mud kitchen is online to buy now. Hurrah!
Yup, you can get the kids out in the garden, give them a bag of compost, the Aldi mud kitchen and have little to do with them again until September. Call it a biology lesson. Maybe DT. Perhaps even cookery. Either way, you're sorted.
What is a mud kitchen? Remember making mud pies when you were young? It's that, but more organised. A mud kitchen encourages kids to play outdoors, creating mud pies or cocktails or murky milkshakes (we all know Jamie Oliver would be impressed).
It's online from today to order – or you can get it in store from next Thursday 11th June. If you can't get hold of one or don't live near an Aldi, we've popped some alternatives below, too.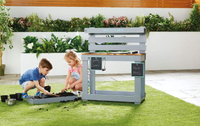 (opens in new tab)
Aldi mud kitchen, £54.99 (opens in new tab)
The Kitchen comes with a wooden prepping area and a box for the mud and is another of Aldi's tools for keeping kids entertained and stimulated during lockdown.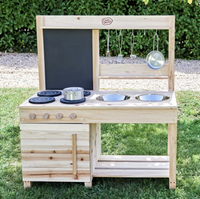 (opens in new tab)
Argos mud kitchen, £100 (opens in new tab)
This Argos mud kitchen is twice the price of the Aldi buy, but it's got more features that your kids might love including a a hob, two sinks, an oven and play utensils. Love it.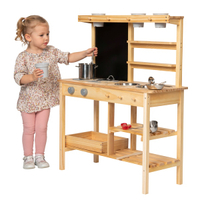 (opens in new tab)
Smyths Toy Superstore mud kitchen, £49.99 (opens in new tab)
LOVING this little bargain from Smyths! This outdoor play kitchen features a reusable chalkboard for writing up today's special: sand sandwiches, obvs. With switches to turn, decorative flowerpots to fill and lots of hooks and shelves for kitchen accessories, this mud kitchen is built to inspire creative play.