Wondering where to move to in order to see the most sunshine? Whether you're relocating within the UK or moving to the country from elsewhere, selecting the right place will optimize your chances of enjoying warm weather.
While record temperatures have been reached over recent months, if you're moving home it pays to know about the statistics over the long term as well as the details. It might be important that you're in the warmest place in England, for example, or more crucial that you find the driest place in the UK.
Our list shows that you can find the sunshine in some locations you might expect – and some you perhaps wouldn't, so check out the details and make sure you're equipped with the best outdoor furniture to benefit from the warmest parts of the UK.
The best places in the UK for sunshine
OK, the UK has a climate that's temperate and humid. But that's not to say that you can't find locations that have long total hours of sunshine. Whether you rent a property or even just a room, own a home or are in the process of buying a house or flat, this is what sun-seekers need to know.
1. Eastbourne, East Sussex: Brighton's bustling cousin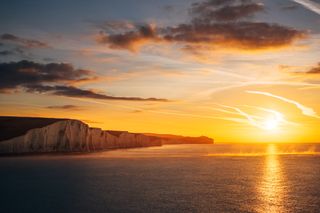 Eastbourne can lay claim to being the sunniest place in the UK with 1,892 hours of sunshine annually, according to Met Office data. Eastbourne has the merit of a gorgeous sandy beach to rival the Dorset beaches, and is right next to the glorious Seven Sisters cliffs, as seen above.
You might equally be tempted by neighboring sunny Brighton which offers plenty of ways to make the most of the rays. 'Just head out on a sunny Saturday and you will see so many locals out for a picturesque stroll along the beach, taking a picnic to the iconic Devil's Dyke or discovering the breath-taking white cliffs of the Seven Sisters Country Park,' says Howard Barden, head of tourism & venues at VisitBrighton. 'For those looking for a little extra excitement, our fantastic connection routes mean you're only a short bus ride away from the South Downs National Park which is home to several stunning vineyards such as Ridgeview and Bolney, which offer fantastic wine tastings.'
As for house prices, if Eastbourne's attractions have convinced you to up sticks and move there, you'll need to know that over the past year the average property price was £308,468, according to analysis by Rightmove. Relocation to Brighton will cost you more with an average property price of £450,938 over the last year.
2. Bognor Regis: traditional seaside style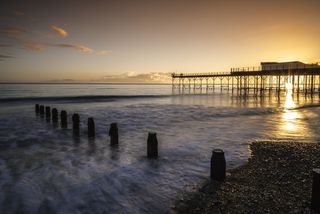 It's a close run thing at the top of the chart when it comes to the best weather in England. Bognor Regis receives an average of 1,852 hours annually, according to data from the Met Office. In comparison, parts of Scotland get fewer than 900 hours, which should give you an idea of just how sunny the West Sussex town is. Like the idea of living there? Properties in Bognor Regis had an overall average price of £342,088 over the past year, Rightmove reveals.
3. Ipswich, Suffolk: a top location for sunny hours
Average hours of sunshine are one of the factors that influences wellness and in a survey by Hillarys that assessed a range of these, Ipswich proved a savvy choice. How much sunshine are we talking? According to Met Office data, the average per year is 1,742 hours. What's crucial, too, of course, is the price of a home and properties here cost £253,040 on average over the past year, says Rightmove.
Explore a little further and although you will have to invest more in your home, you can discover some appealing locations. Tim Dansie, director at Jackson-Stops Ipswich says, 'It's fair to say that Suffolk's heatwave has gone well beyond its record amount of sunshine this year. It's these year-round seaside towns that are uniquely accessible to London which continue to reach dizzying heights.
'Sale prices in Woodbridge, with its with river and coastal views, regularly exceed the surrounding inland villages by 30 per cent. We've had more London buyers than ever before turning to our shores for more choice and better value for money, as well as guaranteed sunshine as the driest place in the UK. The resounding theme has been buying here not just for a weekend pad, but for a full-time family home offering a better quality of life.'
4. Tenby, Wales: the Welsh Riviera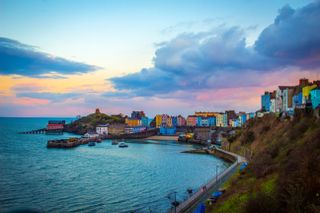 Is this the Cinque Terre in Italy? You'll be amazed to discover that this picture-perfect town is Tenby in south Wales, and it gets a whopping 1,667 hours of sunshine per year. How much will it cost you to move there? 'Properties in Tenby had an overall average price of £295,671 over the last year,' says Carol Peett, MD, West Wales Property Finders.
Note, though, that there is a rival claim to Tenby's when we're considering the sunniest places in the UK. 'Dale, also in Pembrokeshire, disputes this as it claims it is officially the sunniest place in Wales,' says Carol.
Our verdict? Either location could prove a winning move.
5. Central London: it's sunnier and warmer than you think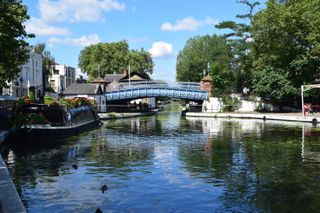 If you're debating whether to move to the best places to live in London and are worried it'll rain all the time, you needn't: London gets a very decent 1,559 hours of sunshine per year on average, according to the Met Office, with temperatures on average a few degrees warmer than Scotland.
The catch? You already know about the (extortionate) house prices, but – it's London, and we'd expect nothing less (or more). What's the average cost of a property here? A whopping £704,979 in the last year, according to Rightmove's analysis.
6. Aberdeen: the granite city
You might be surprised that a Scottish city makes it into the list of the sunniest places in the UK, but it's true. Aberdeen has an average of 1,447 hours of sunshine on average per year, according to Met Office data.
What's more, Aberdeen led the rest in the best location for wellness survey conducted by Hillarys, which reveals the city has '26 spas and wellness centres, 40 parks and receives on average 77.9 hours of sunlight a month. There are approximately six GPs surgeries per square kilometre in Aberdeen which gives the city an overall wellness score of 46'. Winters are mild, too, and rainfall low.
If you like the idea of moving to Aberdeen, the average property price in the past year was £191,792, so all those sunny hours will cost you less.
7. The Isles of Scilly: slow living and warm winters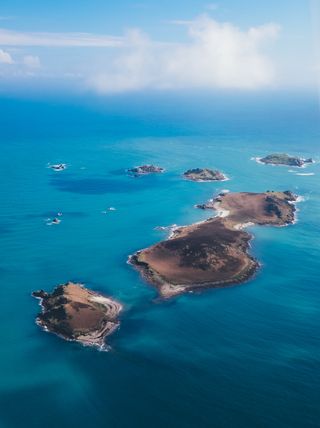 If it's the colder months of the year that you want to escape and you're searching for the warmest place in the UK in winter, turn your attention to the Isles of Scilly. They boast a temperate climate unusual for the UK, and have abundant sub-tropical vegetation that thrives due to the unusually warm winters (rarely below 50ºF/10ºC). The slow pace of life here has tempted many people looking for a change – no town here is bigger than a Cornish village.
St Mary's is our top choice, with its own airport, bank, and shops. It's not the cheapest place to buy property, with a flat costing an average of £235,000 in the past year, according to Zoopla, and a detached property £335,000 – but once you've seen this stunning corner of the UK, you'll see why it's a popular place to live.
Which UK county is the sunniest?
East and West Sussex on the south coast of England can lay claim to being the sunniest counties in the UK. Investigate Hampshire, too, if you're looking for a sunny location in which to live.
'The southern New Forest, and in particular the Georgian market town of Lymington benefits from a micro-climate,' says Kevin Allen, associate director at John D Wood & Co. 'It's a natural phenomenon caused by topography abutting the renowned sailing mecca encompassing the Solent and to its immediate south, the Isle of Wight. The island is so strategically placed that it takes the brunt of the prevailing south westerly weather giving the New Forest a somewhat protected climate, with bizarrely twin tides.
'All too visible to any gardener, the growing season extends way beyond that which is found 20 miles inland – the daffodils for example, are out and flowering long before those inland have even broken the soil! Similarly, at the end of the season gardens more inland are often "put to bed" in October whereas the season extends right through to late December on the coast. Suffice to say when it's hot – it's HOT, and can be somewhat akin to a Mediterranean climate.'
What are the driest places in the UK?
If you're searching for the driest places in the UK, think the east and south, which, according to the Met Office, are 'drier, warmer, sunnier and less windy than those further west and north'.
The wettest parts are found in the mountainous regions including Snowdonia, the Lake District, and the Highlands of Scotland. You'll want to think twice about living in north west England, western and mid Wales, south west England and parts of Northern Ireland to swerve the rain, according to the experts.