Every year, our pillows gain around a pound in weight due to dust mites, as well as gradually losing their fluffiness. A professional organizer has shared an easy trick to stop this disgustingness and help keep our best pillows clean, squishy, and supportive.
Over on TikTok, @neat.caroline has outlined how to successfully wash your pillows while keeping them plumped up. Her top tip is to put two tennis balls covered in white socks into the dryer along with the pillows, to stop the inside of the pillows from clumping together.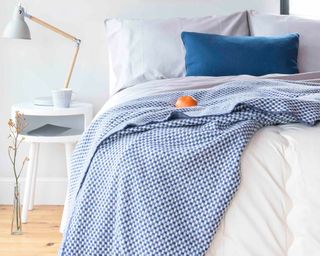 'It's a good idea to wash your pillow twice a year because over time it can collect a lot of dust mites, sweat, bacteria, allergens,' says Caroline. Read up on how to wash pillows here if this is brand new information.
The NYC pro organizer recommends washing two pillows at once to balance the washing machine out. If you only have one pillow that needs washing, just throw in a couple of bath towels with it.
Check the label on your pillow before you proceed, of course, but a gentle cycle with gentle detergent should be just fine. A normal cycle is to be avoided as it can cause damage to your pillow.
TikTok tennis ball pillow hack
Caroline suggests a spin cycle after washing your pillows to remove as much moisture as possible. She says to put the pillows into your dryer with two tennis balls covered with white socks.
Alternatively, you can use wool dryer balls, available at Amazon, to stop the pillows from clumping. These soften laundry naturally as well as decreasing drying time.
The tennis balls covered in socks will help fluff up the pillows while they're drying, so you can enjoy cloud-like pillows and peace of mind that they're properly clean.
'….twice a year….I've never washed mine. Oh my god I'm horrified with myself,' one TikToker commented on the video.
You can also buy pillow protectors to keep your pillows looking their best for longer. The luxury quilted cotton pillow protectors at Dusk are reduced right now and mean you don't have to wash the pillows so often.
Will you be trying this hack at home?