We talk about Tado Smart Thermostats quite often. And if not, a quick browse of our guide to the best smart thermostats will certainly remedy that.
In fact, just last week we were talking about the fact that it currently has 40% off as part of Amazon's pre-Black Friday discounts (Psssttttt, that deal is still on, folks).
But, what you might not know is that Tado can use the data acquired from thousands of Tado Smart Thermostat users to provide insight into our heating behaviours and how they differ from region-to-region.
Something that particularly caught our eye was when Northerners turn on their heating, compared with Southerners. Got an idea? Place your bets. Drum roll, please...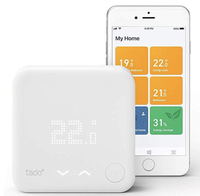 Tado Smart Thermostat | was £199.99, now £120.45 | save £79.54
One of our top rated models, the Tado Smart Thermostat makes it super easy to control your heating from any location, as well as setting schedules and more.
So, how did the hardy Northern folk compared with those down South? And what about the Scots?
According to research undertaken by Tado, the average outdoor temperature needs to drop to 13.5ºC for people in the South to turn on the heating. Comparatively, those living in the North of England will hold out until temperatures dip to 13ºC; while those living in Scotland are prepared to hold out to to 12.5ºC.
So, by his stage – most of us will have won the 'should we turn on the heating' debate and should be enjoying super toasty houses. In fact, according to the research 95 per cent of us have turned on our heating by the end of the second week of October. Still got it turned off? We salute you.