Intrigued by the sustainable fashion movement? More than a fad, the move away from fast fashion in search of more sustainable solutions is a something we should be thinking about when we shop for clothes. But, one of the easiest and still the most effective things we can do is to love the clothes that we already own and care for them correctly. Doing so will not only keep them looking nice, but has the power to drastically increase their life-span, too.
So, to celebrate the launch of the Samsung Airdresser, Samsung have teamed up with stylist Rebecca Corbin-Murray to bring us their top tips when it comes to shopping – and washing – more sustainability.
You'll find more tips in our guide to how to do laundry. You can also shop the best washing machines if you're in need of an upgrade.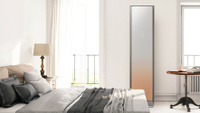 (opens in new tab)
Samsung Airdresser: £1,999 at Samsung (opens in new tab)
The Samsung Airdresser is revolutionising the way we do laundry and its sleek, slimline design would slot perfectly into a kitchen, utility or dressing room, depending on where you do you laundry, or where you store your clothes. Here are our favourite features:
A combination of a built-in Jet Air System and carefully designed Air Hangers blast fabrics with powerful jets of air to effectively remove engrained dust from deep within the fabric.
Jet Steam then sanitises garments in order to gently remove bacteria. This is particularly relevant as it's the growth of this bacteria that causes clothing (or even people) to smell.
Heatpump Drying provides delicate care for clothing by ensuring the temperature is low enough to prevent shrinkage or heat damage.
A deodorising filter further captures and removes odours, preventing a build up within the Airdresser.
Do you have a preferred detergent that minimises damage to the planet?
I used to be guilty of thinking that the only way to remove stains was to get out the bleach and blitz everything. Over the last few years there has been huge advancements made in the detergents we can use and there are more and more on the market that use less harsh chemicals and come in recycled packaging.
What settings do you tend to use on your washing machine? And do you have any preferred makes and models?
I always try to use cold cycles and eco settings as much as possible to reduce the environmental impact of my laundry. Washing on a cold temperature means you'll use less energy per cycle, which also has the benefit of saving money on your energy bills.
My top recommendation now is to balance a good wash with keeping your clothes refreshed between washes with the Samsung AirDresser (opens in new tab), it's a new way to care for your clothes designed to revitalise items between washes, keeping you fresh and putting less stress on fabrics, particularly delicate materials.
The AirDresser removes 99% of germs, so you stay feeling fresh and put together whilst ensuring clothes last longer, helping to combat your fashion footprint.
Should we be worried about microplastics?
I think we should all be very mindful of microplastics and the amount of waste that is entering our oceans. What many people don't realise is that microfibres from synthetics are a major contributor to microplastic pollution, with polyester being one of the biggest culprits.
My advice is be considered when you are buying clothes and consider what they are made from and how you can care for them to work for you and your fashion footprint.
How can we shop for clothes more sustainably?
There are some great sustainable fashion brands and buying vintage to get one of a kind items is incredibly eco conscious but as with everything, it is all about balance.
If you really can't resist that dress from a fast fashion chain then ask yourself, 'how many times will I wear this?' If it's going to be a timeless piece that lives in your wardrobe for years to come, then it's a good investment but realistically, no matter what you buy, how you care for an item can have a huge impact. Cheaper fabrics can easily be strained or damaged if too much heat or moisture is in the air when drying.
I love the HeatPump Drying function on Samsung's AirDresser for that exact reason, it uses cooler temperatures that dries clothes gently and quickly – reducing damage and shrinkage!
What are your thoughts regarding sustainable fashion and privilege?
I think there are so many options out there for people to make small steps to having a more sustainable wardrobe. Making sustainable choices should be a priority across all areas of life, as we become more aware of the impact our lives have on the world we live in.
When it comes to fashion, I think it's great to see people opting to spend more on high-quality pieces that last longer, but that is not to say that is the only way to be more sustainable, there are great finds to be had in charity and vintage shops and also swap parties with friends are a great way to get your sustainable fashion fix without spending a lot of money.
Ultimately it is about moving away from throw away items and moving towards fewer things, but ones you really love and care for.
Are there fabrics that are better than others, in terms of sustainability?
Some materials are more sustainable than others. Buying one new white cotton shirt produces the same amount emissions as driving a car for 35 miles.
Recycled cotton, organic linen, organic hemp - and innovative fabrics like Tencel and Pinatex are all great sustainable options.
What steps (if any) do you take as part of your work routine to be more sustainable?
The fashion industry is much more aware of the impact that clothing has on the environment and is something I've been trying to be conscious of when it comes to the red carpet. Fortunately, many of the items I source are borrowed from brands or vintage.
As a stylist, I have access to some of the most innovative and exciting clothing brands in the world and as we are able to send back these amazing creations to the designers this means we can reduce clothing wastage and be more sustainable. Whether it's choosing the items that have been made sustainably or how we care for them I'm trying to make the eco-conscious choices.
Looking for more laundry advice?