Reusable water bottles are a great sustainable investment for the family, but storing them can often be a nightmare. However, this water bottle storage hack we spied in Shea and Syd McGee's kitchen could be the perfect solution.
The founders of Interior Design Studio McGee are famous for their pristine home decor. Shea's eye for detail even landed the duo a show on Netflix – Dream House Makeover. However, not even the McGees are above needing some extra kitchen storage ideas from time to time.
To help improve the family's pantry organization, Shea and Syd enlisted the help of professional organizer Jen Martin of Reset Your Nest. One of the key challenges was keeping Syd's water bottles in order.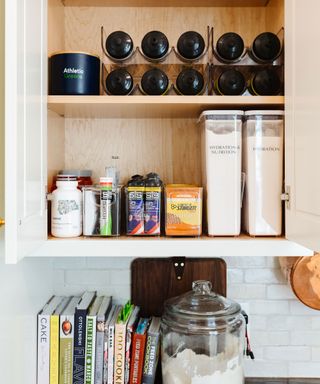 Jen explains that Syd's cabinet needed to work for him, but the water bottles had become a pain point for Shea. Luckily Jen's smart hack was to install a bottle rack, just like the ones you store wine in.
'Water bottles can often be problematic. They aren't all the same size like a set of glasses. They can topple over easily which makes them challenging to organize,' says Jen.
'One of our favorite ways to organize water bottles at Reset Your Nest is using a water bottle organizer. These organizers are great because they can stack as high as you want and come in sets of either 2, 3 or 5.'
'This is just one small way to keep organized and give every last item in your kitchen a home.'
The version Jen used in the McGee pantry was a dedicated water bottle rack from Mdesign available from Amazon for $28.99. However, a wine rack will also do the trick for containing water bottles in an orderly fashion.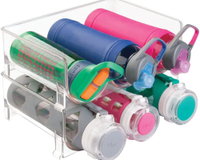 mDesign Plastic Stackable Water Bottle Holder | $28.99, Walmart
In total, this holder can house 6 bottles. Each rack holds up to 3 empty/reusable water bottles, however, it can be used for a range of other bottles too, including wine. The sleek minimalist design makes it perfect for tucking away in a cupboard or on a countertop.
You can find bottle racks in most stores, many are stackable and perfect for sitting inside a cupboard such as this Altsales Wine and Water Bottle rack for $19 from Walmart. Alternatively, if you have a large pantry shelf or space on a countertop, a bolder wine rack is a great option.
Like with any organization idea, before investing first check how many bottles it will need to store, where it will go and double-check the measurements. The last thing you want is to invest in a set for inside a cabinet and find you're unable to close the door with them in.