Crisp white cotton sheets are a classic. After all, white bedding goes with literally everything while providing a blank canvas for decorative pillows and blankets.
62% of us say we don't sleep as well as we'd like – could our bedding be to blame? Sleep experts argue that fresh white bedding could negatively impact the quality of our slumber by reducing our melatonin levels. So what's the best bedding color to go for?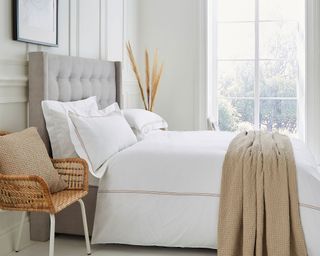 Sleep expert's white bedding tip
'Color matters,' asserts Sleep Expert, Dorothy Chambers from SleepJunkie. 'The sheet color choices for your bedroom may seem like only a cosmetic preference, but it can really influence how well you sleep.
'Stay away from whites and blues as it's thought these colors might affect melatonin levels,' Dorothy warns. Melatonin is a hormone primarily released by the pineal gland in response to darkness, and it governs our circadian rhythms (our 24-hour body clock).
So it makes sense that bright white and the color of the sky would conflict with this sleepy hormone that is produced in the evening. Dorothy Chambers argues that shades in the yellow, orange, red and black families are best.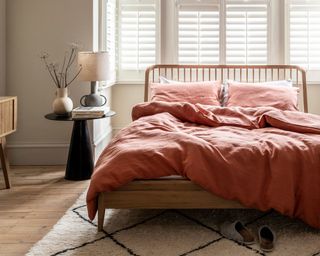 Although, we'd suggest picking whatever color bedding feels the most like a big hug – perhaps a sumptuous pink or dark navy, like this luxurious set from La Redoute. 'Darker hues such as inky blues, earth tones, or deep greens can give a very cozy effect and can help you feel cocooned by your bedding,' comments Founder & Creative Director of Bedfolk, Jo James.
James Higgins, CEO of Ethical Bedding and expert in bedding cites the largest global color study that saw 29,596 people take part. This research found that blue and green hues have the most relaxing and calming effect on the brain.
Climbing into a forest green bed does sound pretty dreamy. Dunelm's pure cotton duvet in peacock looks like a good option.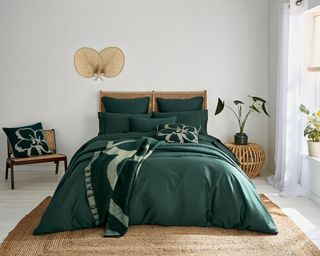 Whatever you go for, think not only about how the color will look but how it might affect you as you drift off. If you're serious about improving your sleep quality this year, investing in the best mattress for your sleep style is essential.
Will you be steering clear of white bedsheets?