A nightstand is always a really useful spot for keeping your current read and a mug of tea. But it can sometimes be tricky to make them work in a smaller bedroom - and we're never sure if having just one looks a little off.
Shea McGee has shared her top tips for incorporating this bedroom storage idea into a tight space.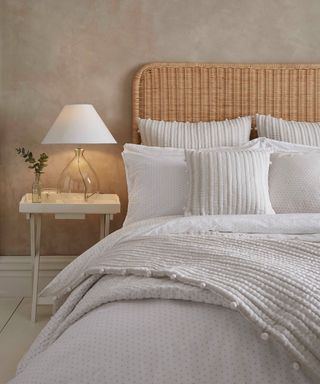 Keep scrolling for her secrets - whether you love curating yours with your favorite relaxing scented candle, rose quartz crystals and a sleepy pillow spray - or keep things uber minimal.
'Although we love the form and function of nightstands, sometimes you need to re-think how they work in small bedroom spaces,' writes Shea on the Studio McGee website. 'Choosing smaller, legged pieces is always a good idea for bringing a more open feeling to the room.'
The Dream Home Makeover star comments that a small side table or a little stool can work just as well as a nightstand to hold a few bedtime essentials. These are a better small bedroom idea than large, boxy pieces that cover a significant area of the floor, which can make your sleep space feel cluttered and therefore even smaller.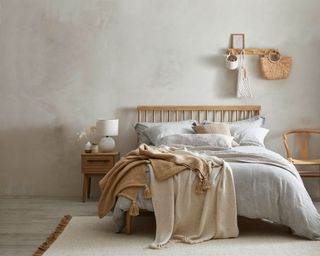 'If your closet door swings too close to one of your nightstands,' Shea continues, 'try going for an asymmetrical look by forgoing a nightstand on one side or even breaking the "rules" and skipping nightstands altogether!'
A small wooden stool would be our preference, as it encourages a level of discipline with just enough space for a few items. If the architecture of your bedroom allows, consider wall-mounted nightstands with a drawer for neatly tucking things away and surface space for displaying your best bedside table lamps.
If you've just moved house and your existing nightstands aren't working in the space, it might be that you're better without any at all. A minimalist, white wooden ladder could be a smart alternative for holding books and candles - if you have the wall space.
We also love this circular white nightstand from IKEA, which off-sets the harsh angles of a bedframe, door, window and so on, making the whole space more zen for just $19.99.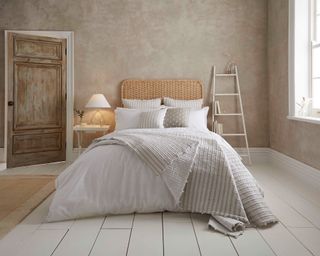 We always thought that when you imagine your dream bedroom, or the kinds of aspirational images we see on Pinterest, one nightstand would make the whole room feel unfinished. But if an asymmetrical nightstand situation is good enough for Shea, it's good enough for us.