Whether you're on day two or 12 of self isolating, the time will soon come when you find yourself dreaming of fresh air. Yes, you can go outside for a walk. Yes, you're certainly allowed to chill in your back garden. But, if you're having to work from home and live in a block of flats, or your house isn't blessed with large floor to ceiling windows that open wide, you may start to feel a little claustrophobic soon. And there's the issue that having all the windows open means you have to wear 3 jumpers, two pairs of socks and thermal leggings under your jeans. Thanks, British weather. The only way to solve this problem? With an air purifier. Specifically, this one which is one sale at Amazon today for just £29.99.
Air purifiers work to – as you may have guessed – purify the air you breathe inside. This means they can rid the air of 99.97 per cent of airborne bacteria, dust mites, mould spores, allergens, odours, pet dander, smoke, cooking and VOCs (volatile organic compounds). All in one small – and in this case portable – device.
Usually, this air purifier from Amazon would cost a whopping £59.99: it's the perfect size, easy to use and quiet. Take advantage of this cheap deal while you can and become a boss at self isolating.
Suffering from the opposite problem and in need of a dehumidifier? Check out our guide on the best ones to buy. Otherwise, head over to our cleaning section for more advice on ensuring your home surfaces are Coronavirus-free.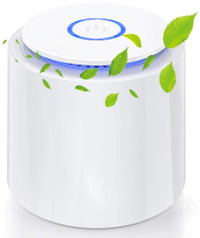 Laluztop SY-701 Portable Air Purifier | Was £59.99, now £29.99 at Amazon
Small so very much portable, this three in one machine features a HEPA filter for banishing dust mites, pollen, bacteria and more, as well as a High Efficiency Activated Carbon Filter to eliminate pet smells, cooking odours etc. It runs at a quiet 30dB and is also super easy to use. And you can add your own essential oils to it if you like. A great addition to a small home office space, a teeny living room or a squished bedroom.