If you're anything like my family, you probably love capturing the holidays and momentous occasions with family photos. However, my family is on the smaller side, so getting photos of all of us together is exceptionally rare. That is until I finally bought a tripod and it has officially transformed the way my family can take photos and preserve moments in time.
I've always thought that a tripod was best reserved for photographers, as well as bloggers and social media influencers looking to get the best shot on their own. But knowing that family photo "selfies" just don't really cut it, I was ready to try something new.
Enter my first tripod purchase and an ensuing family photoshoot in front of our fireplace. With Thanksgiving just being the three of us, there was no one else around to take a photo. We got all dressed up (ok, I matched my UGG slippers to my dress), set up the tripod in a snap, attached my smartphone and dozens of photos later in varying poses, we actually have some print-worthy shots of our small family, together in one elegant composition.
We toyed with taking photos on selfie mode and seeing our reflection back with us. We realized that the rear-facing camera on my iPhone was superior, so I set up the shot before we all joined in to make sure everyone was within the frame. The tripod I purchased, more on that below, came with a Bluetooth fob that connected to my phone so we didn't have to wait for a timer or running back and forth between each shot. Seriously, the fob might have been my favorite part.
Now, my family can't wait to take more family photos! We are completely hooked, and can't believe we hadn't thought about this until now.
Want your own tripod to elevate Christmas morning matching PJ family shots or finally dressed up in your Christmas Eve best? I rounded up the best tripods, according to your needs, including the very tripod I bought!
Once you get the perfect shot, learn how to display pictures and photos in our guide.
The exact tripod I purchased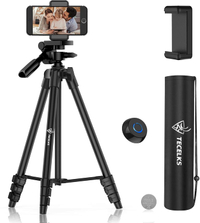 (opens in new tab)
TECELKS Lightweight Tripod 55-Inch, Camera Phone Tripod Stand with Bluetooth Remote | Currently $23.99 at Amazon (opens in new tab)
This lightweight tripod was so easy to set up in my living room and even easier to connect the Bluetooth fob to my phone. It even came with an additional battery for the fob—ah love, the little details. When not in use, I can stash it in the accompanying sleeve in a tote bag or large backpack. It'll be a must-bring when I can start traveling again.
A tripod that's great for traveling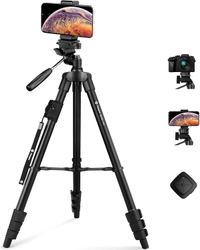 (opens in new tab)
Fotopro 59" Camera Tripod| $59.99 (plus a $20 off coupon at checkout) at Amazon (opens in new tab)
When it comes to traveling and using a tripod outdoors, it needs to be lightweight for transporting, yet stable. Now, while we don't advise breaking this out during inclement weather or high winds, Fotopro's 59-inch tripod is the ideal companion for hikes, day trips, and other excursions. It weighs under 2 pounds, can support cameras up to 4.4 pounds, and includes attachments like a Bluetooth Remote (and mount), GoPro mount, and a smartphone Mount.
A tabletop tripod with limitless possibilities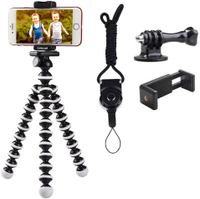 (opens in new tab)
Linkcool Octopus Phone Tripod | Currently $15.99 at Amazon (opens in new tab)
While an octopus tripod is small in size, it's versatile in its capabilities and is also excellent for traveling. The bendy legs allow you to play with angles and even wrap around beams and rails for stable, hands-free shots in a pinch. When you're not using it for family photos, this compact tripod is great for video calls, vlogging, and product photography.
A tripod with built-in lighting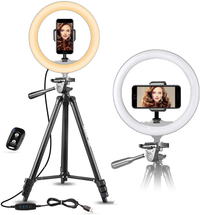 (opens in new tab)
UBeesize 10" Selfie Ring Light with 50" Extendable Tripod Stand | Currently $45.99 at Amazon (opens in new tab)
Up the production level of your photos and videos with a tripod that also has a built-in ring light. The UBeesize ring light offers 3 light colors (Warm, Cool White, Daylight) and 11 brightness levels for a total of 33 light options with the tripod itself expanding from Extending from 15- to 50-inches. With all the versatility for pro-level photos, this tripod will help bring, note that in order to use the lighting component, you must be near a power outlet, so it's not great for traveling.
A pro-level tripod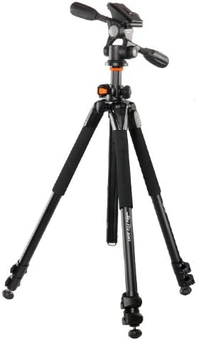 (opens in new tab)
Vanguard Alta Pro 263AP Aluminum Tripod with PH-32 Panhead for Sony, Nikon, Canon DSLR Cameras | $199.99 at Amazon (opens in new tab)
If you're using pricey equipment like a DSLR or video camera, you'll want to ensure your tripod can support its weight. Vanguard, a highly recommended manufacturer among photography pros (and amateurs), offers immense versatility and stability when it comes to its tripods. The Alta Pro 263AP with a Panhead can support equipment up to 11 pounds and is loaded with premium features like a Multi-Angle Central Column, varying leg angles for low angle photography, and an Instant Swivel Stop-n-Lock System to securely reposition the central column in one simple movement.
Read next...