Rock the Block star and interior designer Nate Berkus recently shared a tip for adding a finishing touch to a room that just feels like it's missing something. In a recent episode of the hit home renovation show, he presented a clever bathroom idea. He simply fitted a large, custom-made window shade in the bathroom.
The statement shade is a simple and easy way to totally transform a room. Window treatments are often overlooked as an opportunity to add interest in a functional space like a bathroom. We tend to go for plain, inoffensive options that simply 'do the job', particularly in the bathroom where it could get wet.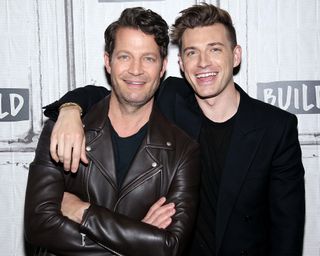 But, given the considerable surface area they cover when down, blinds are a chance to add texture, pattern, and color. Just like bathroom wallpaper ideas or paint.
The way Nate has chosen to fit the shade high, right up where the wall meets the ceiling creates the impression of more space. For more inspiration, check out our bathroom tile ideas to make a space feel bigger. The soft, folded material in a delicate floral pattern also adds a sense of luxury, which we all need more of in our bathrooms.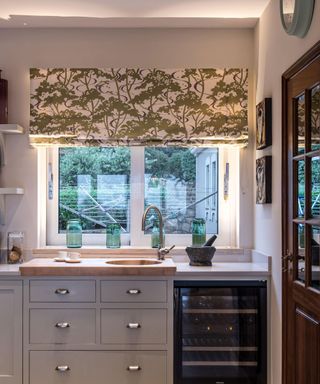 'Have a room that feels MEH? Adding custom window treatments = instant architecture👌🏼' says Nate Berkus. 'For the bathroom of our #RockTheBlock house, I used a shade from my @theShadestore collection (the Paloma pattern in Seastone).'
His Instagram post attracted lots of comments from fans praising his work on the Rock The Block bathroom.
'Your design is above and beyond. It shouldn't even be a competition,' one said.
'Obsessed with that floor,' wrote another, referring to the stunning black and white marble tiles.
A third said, 'Love the tub. Wish I had one.'
'Your rooms are the BEST! If I was looking for a home I'd buy your house on the block!' another commented.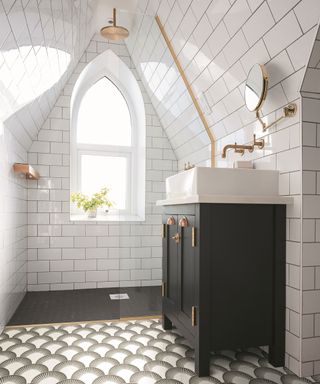 The bathroom as a whole is decorated in a neutral palette with cream walls, gorgeous monochrome floor tiles, and the bespoke shade over the window. There's also a stunning white free-standing bath with modern, matte black taps.
The large window next to the bathtub helps to let in lots of natural light, looking out onto some trees outside.
Is there a room in your home that would benefit from a statement shade?