We know you love great interiors because otherwise you wouldn't be here, and so the odds are pretty high that you're a serious curator of Pinterest boards, too. While other social networks rise (and sometimes fall out of favor), Pinterest has built a huge and loyal army of fans of fabulous home decoration, putting together boards by pinning images of their most-wanted and most-loved looks for every room.
Real Homes is among the sharers on Pinterest, and we love to see which of our rooms are pinned the most – and now we're going to give you the inside track, too. We've put together a list of the nine most-pinned bathrooms we've shared in 2020.
Scroll down to see the beautiful bathrooms and find out more about them and if you're looking for more bathroom ideas, you'll discover loads more inspiration in our special feature.
1. The small shower room with sophisticated style
It's not hard to see why this en suite has been the top Real Homes bathroom on Pinterest. It's proof that having a small space is no bar to creating a luxurious room. The bathroom was created as part of a loft conversion, giving the owners an en suite to a new bedroom.
Floor tiles laid diagonally make the small room feel bigger than it really is, and good lighting and mirrors keep it bright to space-stretching effect. The owners resisted the idea of a super-modern bathroom, choosing brass fittings that add warmth to the scheme and have enduring style, and an industrial-style shower screen that's a fabulous feature.
All in all, it's no wonder this sophisticated scheme is our number one most-pinned bathroom.
2. A welcoming room with warm finishes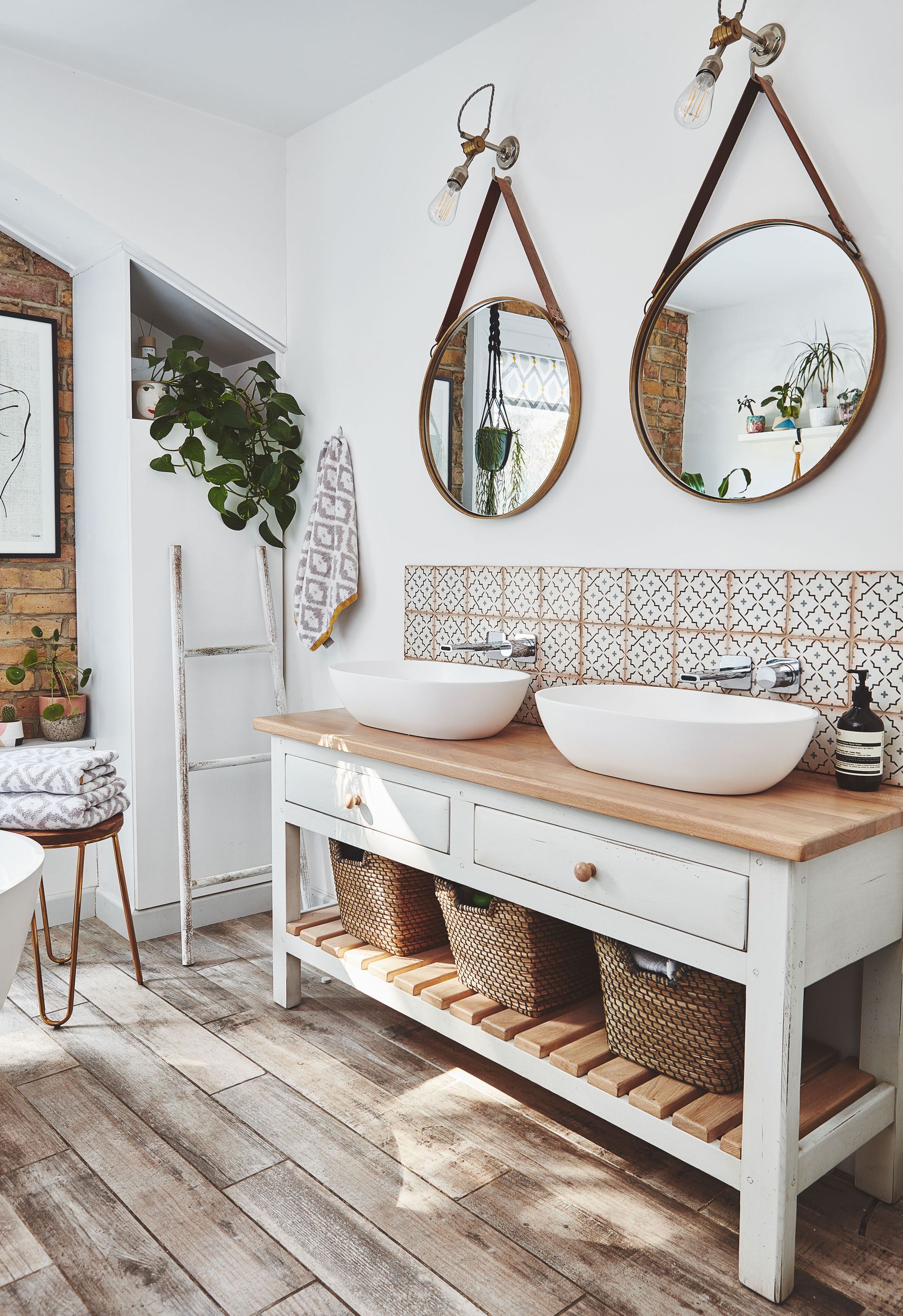 Love the idea of a bathroom that's a million miles from clinical wash space? Then you'll join the fans of this spa bathroom, which came in at number two on our most-pinned bathrooms list. The owner of this room gave up a bedroom to create this welcoming space which replaces the old downstairs bathroom.
To create the relaxed vibe wall tiles are limited to the basin splashback, and the porcelain floor tiles have the look of wood. If you've got the space, be inspired by this room's twin basins and avoid the morning squabbles. The vanity unit has a warm organic finish, and wicker baskets on the shelf below add to the room's appealing range of textures.
3. Vintage touches under a sloping ceiling
A potentially awkward sloping roof didn't hold back the owner of this bathroom – and the stylish results make it our third most-pinned room of the year. By working with the shape of the room, a walk-in shower fits at the end of the space with no crouching required.
The bathroom is part of a period home, and vintage-look tiles on the floor tie the new room in with the rest of the house. Glossy grey metro tiles on the wall pick up color from the patterned design on the floor and give the space a modern twist. Take a leaf out of the owner's book with a slim vanity unit that keeps the room spacious as well as practical.
4. The bathroom with a pop of pink
Pink's been a huge hit for interiors this year, and that includes bathrooms as this room's position in our Pinterest top nine proves. A pink-painted vanity gives the classic black and white scheme an individual twist, and the shade is repeated in the towels to add extra touches of the grown-up hue.
Other reasons we reckon this room is a hit? We're sure plenty of pinners were inspired by the dark grout that gives the metro-style tiles even more stand out. And those patterned floor tiles (as we also saw from number three, above) are much lusted after.
5. An on-trend black scheme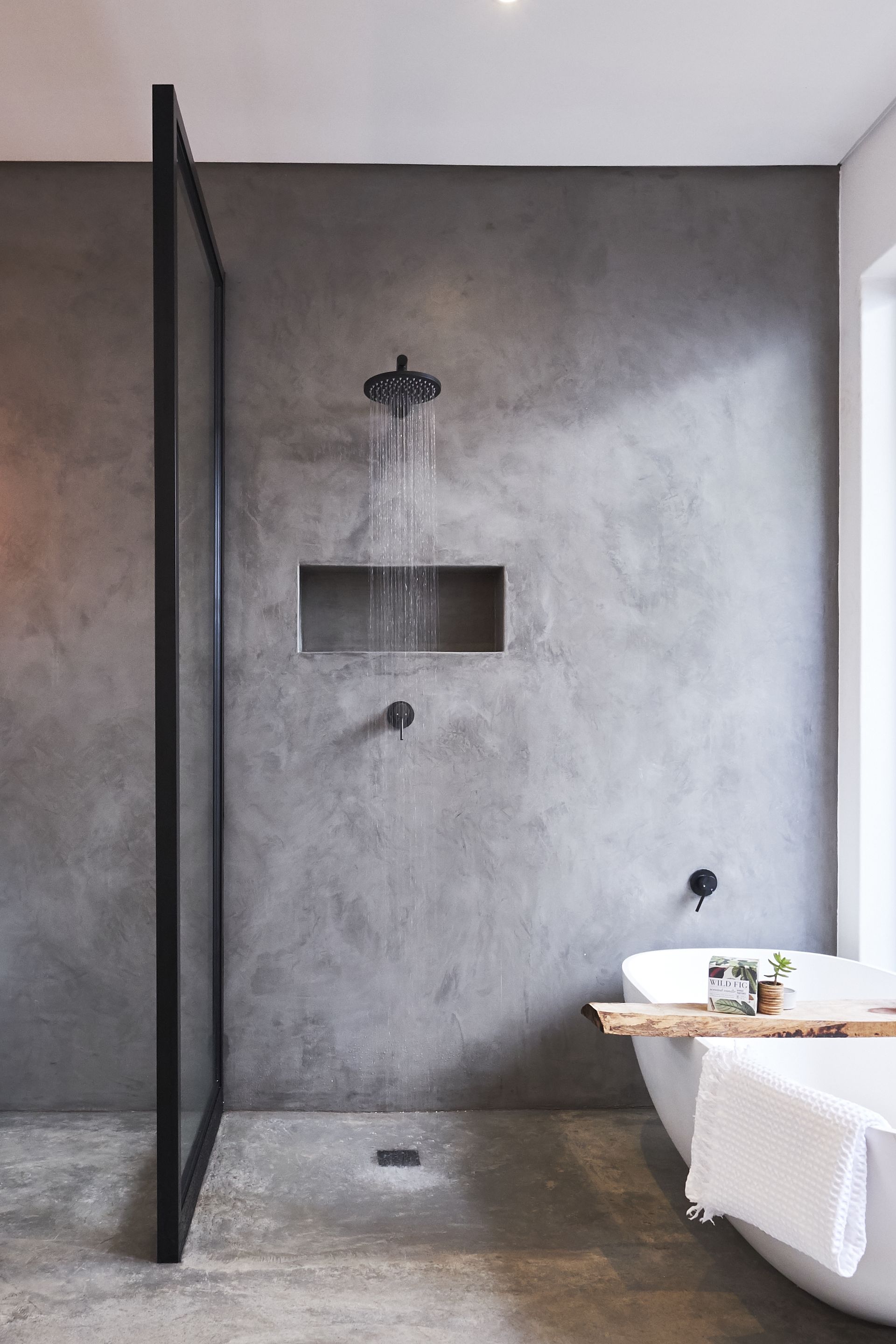 Fallen for black brassware this year? The number of pins for this sleek shower room created by mier show you're not alone in considering stepping away from the cool tones of chrome and embracing the more dramatic look of black.
Just as in this space, team black taps and shower fittings with a shower screen in black to get the look, and keep the room calm and uncluttered in appearance if you want to bring its style to your home. Grey walls make this room fabulously moody, but for a more classic pairing, opt for white.
6. A totally tropical look
At number six in our 2020 Pinterest hit list is this amazing cloakroom. While it may be the smallest room in the house, a downstairs bathroom definitely doesn't need to be modest in its decor as this room with its gorgeous jungle wallpaper shows. In fact, this may be the perfect spot to hang the luxury wallpaper you've always wanted if this room has inspired you as you won't need many rolls.
Other favorites from this year's most-pinned Real Homes bathrooms feature here, too, including a black tap, and dusky pink in the wall tiles. Real (or convincing fake) houseplants and decorative accessories should also be part of your room to get the look.
7. The bath with a view
Imagine yourself kicking back in this traditional tub and enjoying a wonderful outlook as you melt your cares away. We think plenty of Pinteresters did just that when they added our number seven to their boards.
But even if you don't have a vista to envy from your bathroom, there's plenty of features that make this room a winner. The black and white tiles create decorative interest at floor level, while the cobalt wall tiles bring in rich color that's oh-so soothing, along with a tactile crackle-effect finish.
8. The centerpiece bath
Think you've seen this bathroom somewhere very recently? You have! The photo of its double vanity was in the number two spot, above, in our most-pinned list. But it's not just the basins that caught pinners' eyes, but also this shot of the room's freestanding bath.
The bath makes a fantastic focal point for the space. Rather than a traditional tub, this one is a contemporary take on the freestanding style with clean lines that contrast with the more intricate detail and texture elsewhere in the room. It's curvaceous, nonetheless, and easy on the eye.
9. Easy elegance and a spacious feel
Our final Pinterest favorite bathroom of 2020 is an elegant room that marries the best of modern convenience with traditional features, so it's no surprise it's inspired many people.
The walk-in shower is a luxurious touch – no elbow banging in there – and with a neat tiled nook for bottles they're out of the way of showerers, too. The bath is a beloved claw-footed design and rather than tiling behind it to create a splashback the owners have protected the walls with panelling to boost the room's period credentials.
As for the floor? We reckon these patterned tiles must take the prize as the bathroom flooring Pinteresters just can't resist!