It's my second favorite time of the year, just behind Halloween. Yes, Nordstrom's Anniversary Sale has landed, which means we're being treated to a couple of weeks' worth of deals — so get your purse out. Sorry, but it is better than Christmas in my eyes.
The Nordstrom Anniversary Sale is known for being incredible, but you already know that — right? While you might spend your time browsing the home section for luxury bedding at an affordable price or even looking for a new suitcase to take on a late summer vacay, there's one thing you're probably forgetting to stock up on. I bet that you've completely forgotten to buy any home fragrances. And if you know me, you know that my motto is that your house doesn't look nice until it smells nice. Trust me on this one!
If you need something to make your guests say wow — like a summery entryway reed diffuser or a chill candle for your bedroom or bathroom — keep reading. No one wants to spend all of their savings on a candle, I totally get that, but thanks to this sale, you won't need to spend more than $50. Also, candles and reed diffusers make such good gifts, but you already know that.
Here's everything I recommend buying in the Nordstrom Anniversary Sale RN, before it sells out for really setting the vibe.
Nordstrom Anniversary Sale: Home fragrance finds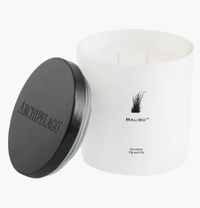 Archipelago Botanicals Luxe Candle | Was $46, now $30.99 (save $15.01) at Nordstrom
If you only want to buy one scented candle from the Nordstrom sale, then let this be it. We're big Archipelago Botanicals fans, but we haven't tried this Luxe Candle yet. If it lives up to its name, it's definitely one you want to put center-stage, right in the middle of your coffee table or in your entryway on your console table. Made from coconut wax and containing two wicks, it's the perfect scent to light just as we leave summer behind and head into fall. It has a 100-hour burn time, too.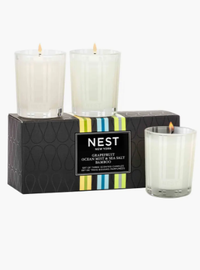 Nest New York Votive Candle Trio | Was $54, now $36 (save $18) at Nordstrom
Okay, this is a total steal. Three candles for less than $40? Count me in. I am a BIG fan of Nest New York candles, and although I haven't burned these scents, I haven't found a scent I dislike yet from the brand. Included are three fragrances: Grapefruit, Ocean Mist & Seasalt, and Bamboo, for you to put in different rooms. Each candle has a burn time of 20 to 28 hours, and they all come in that elegant frosted and striped glass jar that's — synonymous with all Nest New York candles.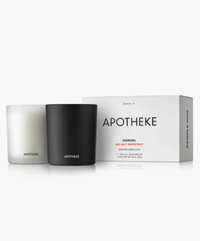 Apotheke Charcoal & Sea Salt Grapefruit Candle | Was $88, now $60.99 (save $ 27.01) at Nordstrom
This candle duo would make the ideal housewarming gift, otherwise, it comes with two separate fragrances, one in a white vessel and the other in a black one. Included comes Charcoal — which is perfect for colder fall days as it's a smoky scent — and Sea Salt Grapefruit, which you can start burning now and enjoy its fresh and fruity scent all throughout summer. All Apotheke candles are made with soy wax and are cruelty-free, with a burn time of 60 to 70 hours for these two.