Self-professed caffeine addicts, perk up, this is not a drill and there are still some serious Nespresso deals to be had this Cyber Monday. Sure Cyber Week might feel like it's slowing down but with the popular Nespresso Vertuo Plus still at an excellent price, with 30% off on Amazon, and many more great savings to be had on other machines, you still have the chance to make a sweet investment.
The Vertuo Plus makes you strong and smooth espresso and coffee and consistently ranks a favorite among the best Nespresso models. It's the perfect companion for your desk-side coffee bar or a guilt-free addition to your kitchen. There's more too, whether you're into straight-up espresso or flat whites and lattes galore.
Cyber Monday 2022 Nespresso deals not to be missed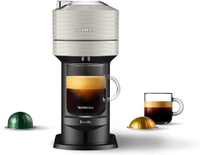 Nespresso Vertuo Next Espresso Machine|Was $179.95, Now: $125.95 on Amazon
The Nespresso Vertuo Next Coffee and Espresso Machine brews both coffee and espresso using Nespresso Vertuo Pods and can brew six different cup sizes: coffee (5 oz, 8 oz, and 14oz), Espresso (single and double), and an 18-ounce pour-over style carafe. It's also Nespresso's most compact machine and is made with 54% recycled materials, which draws on Nespresso's sustainability commitments.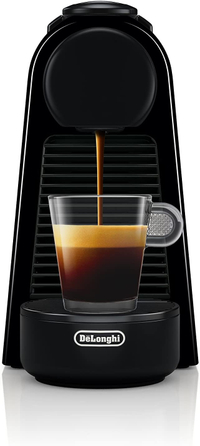 Nespresso Essenza Mini Coffee and Espresso Machine by De'Longhi, Black|Was $169.00, Now: $157.98 on Amazon
The Nespresso Essenza Mini coffee machine is great for small space dwellers as it takes up minimal counter space but delivers a real caffeine hit and rich coffee taste nonetheless. It's super chic in black but also available in red and a jazzy lime color for the maximalist out there.
Simple to use, with two programmable cup sizes and a 19 Bar Pressure System; this model is small but mighty for perfect one-button brews every time.
Nespresso makes some of the best espresso makers around and if you're not sure that one of these models is for you, don't you worry, there are more. You can actually snag a cheeky 30% off at Nespresso on all Vertuo coffee makers and select original machines right now so it's worth checking out pronto.
Use code BLACK2022 for the Vertuo and BLACK22 for the original models. There are tons more offers on too, including pods, hurry on over.
More about Nespresso's Vertuo
Vertuo uses a barcode recognition system and knows exactly which coffee pod you've placed in the machine. The machine then adjusts the extraction process, including flow, volume, and temperature of water to get the best results. It also uses a unique 'Centrifusion' technology, where the pods are spun at 700prm to extract every drop of flavor and also create a larger than average crema head. Choose from six cup sizes, depending on your desired strength, including 5oz., 8oz., and 14oz. options, single and double espresso shots, and a unique to the Next, an 18oz. carafe. It's a vibe, gives delicious results, and we love it for that.
*Please note where no specific end deal date is indicated, the end of sale/discount date is unknown. All deals are subject to change frequently over the course of Cyber Weekend.