Whether you enjoy jam first, or cream, or neither, we can all agree that there is nothing quite like a fresh scone. Given the nation's love of this quintessentially British treat, it's no surprise that the National Trust sold more than three million scones as visitors to its 350 cafés treated themselves to a sweet treat.
Next year, however, they plan to sell even more scones as they launch their Vegan Afternoon Tea. Launching in World Vegan Month (November), the vegan scone, complete with oat milk vegan cream, will feature alongside steaming hot one pots, vegetable tagines and a spicy soup – perfect for the winter months.
There's nothing the Period Living team love more than a cream tea and a period property, so we'll definitely be heading over to our local property to sample its delights. If you're looking for more vegan treats, you'll love these three comforting vegan recipes, perfect for the chillier months.
With more than 540,000 vegans in the UK, and three quarters of a million vegan visitors to National Trust (opens in new tab), Development Chef Rebecca Janaway says the vegan cream tea reflects the diversity of National Trust visitors, 'We are welcoming more people than ever before to the places we care for who have a variety of tastes and dietary needs, and our menu needs to reflect that.'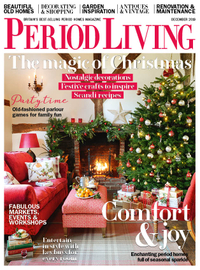 (opens in new tab)
For lots more delicious recipes and great inspiration for days out subscribe to Period Living (opens in new tab) and for a limited time get 3 issues for just £7.50.

Ethically cooking is at the heart of the trust, the majority of the menu champions the food grown in National Trust gardens, with National Trust tenant farmers supplying cafés with butter, cheese, potatoes, meat, nearly three million free-range eggs. What's more, visitors to the cafes are not just enjoying a delicious treat but are also generating an important income stream which helps the charity meet its conservation goals.