January is simply the best time for tidying and generally getting our ducks in a row. One TikTok user has shared a clever storage drawer hack to help us on our way to being our most organized selves in 2022.
She uses museum gel to stop her in-drawer organizers from sliding around, and her video has left us wanting to try out this organization idea for ourselves.
In the clip below, @neatmethod demonstrates how when she opens her kitchen drawer, the plastic dividers holding stationery all slide around. So she scoops out a small amount of clear museum gel, designed for securing glass and crystal in place and often used in museums for holding things in place discreetly.
@neatmehtod then molds the gel into small balls like you would with blue tac for putting up a poster on the wall, and attaches them to the bottom corners of the containers. She presses the gel down firmly onto the bottom of the kitchen drawer and that's it!
Everything is held neatly in place and this is another great way to organize kitchen drawers and the like, successfully. You can pick up museum gel at Amazon.
TikTok storage drawer hack
'This is so helpful, thank you!' one follower commented. 'Wait are you kidding me? This is what I needed the whole time?' said another.
'I can't wait for mine to come in!! Christmas present to myself, thanks Amazon!' wrote a third.
It's almost impossible to find organizers that fit perfectly into your drawers, so museum gel is a great way to keep your kitchen storage ideas in order. You can also use the clear gel to hold a vase in place on a coffee table if you're worried about kids knocking it over.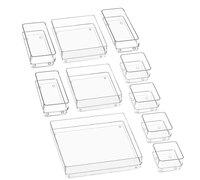 Plastic Clear Organizing Bins for Drawers | $17.99 at Amazon
Restore order to messy drawers with these organizing bins - held in place by museum gel. As well as keeping kitchen drawers neat, they help to keep makeup organized and allow you to categorize bathroom products and office supplies.
Museum gel could also be really handy when rearranging your shelving ideas to make sure your décor items are held in place. It's non-toxic and, like blue tac, you can remove it and use it elsewhere.