Despite only being available for pre-order since Sunday 18 August 2019 – that's one day at the time of writing – Mrs Hinch: The Activity Journal is already a bestseller.
Mrs Hinch's debut, Hinch Yourself Happy, shared all the cleaning hacks you could ever need (or want). The Activity Journal offers something slightly different, but it appears to be just as popular among Hinchers – the name Mrs Hinch uses to describe her 1.3 million Instagram followers.
What can users expect from Mrs Hinch's latest book release? We reveal all below.
Looking for Mrs Hinch inspired tip and tricks? Hhead over to our cleaning hub page
Underpinned by author Sophie Hinch's belief that a happy home can help create a happy mind, Mrs Hinch: The Activity Journal is designed to help readers relax and unwind with a range of fun puzzles and activities, as well as space for reflection and goal setting.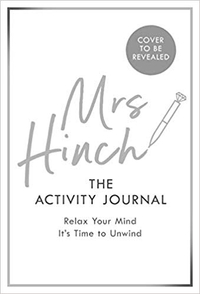 (opens in new tab)
Mrs Hinch: The Activity Journal | pre-order now (opens in new tab)
Intrigued by the latest release from Mrs Hinch? Pre-order now and be among the first to receive a copy of The Activity Journal when it's released on 17 October 2019.