We're always encouraging our readers to look at amazing garden ideas – but mostly they're utterly attainable, budget-friendly and suitable for small spaces.
Get ready for a change of direction: today, we bring you property porn no gardening fan can resist: five of the best American gardens you'll ever see. They are gardens that have belonged to Bob Hope and Barry Manilow, have been rented by Marlon Brando, and hosted parties attended by Ginger Rogers and Greta Garbo. Taken from Monty Don's new book, American Gardens, these gardens are only for those with budgets equivalent to the GDP of small countries. Still, it doesn't stop us looking.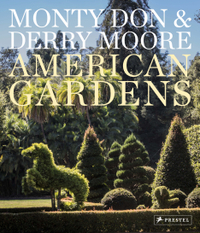 American Gardens by Monty Don and Derry Moore, £30.80
Available in hard cover at the moment, this book makes a wonderful gift for gardening enthusiasts and design fans alike – or simply buy it for your own coffee table to enjoy with a cuppa...
For the book, which complements the BBC TV series, Monty Don travelled across America with celebrated photographer Derry Moore to trace the fascinating histories of outdoor spaces which epitomize or redefine the American garden.
They look at a variety of gardens and outdoor spaces at the centre of American history including the slave garden at Thomas Jefferson's Monticello estate, Longwood Gardens in Delaware, and Middleton Place in South Carolina. Together, they visit verdant oases designed by modernist architects such as Richard Neutra. They delve into urban outdoor spaces, looking at New York City's Central Park, Lurie Garden at the southern end of Millennium Park in Chicago, and the Seattle Spheres.
Derry Moore gives his unique perspective on gardens across the United States, including several not featured in the TV series. These include unpublished photographs of Bob Hope's Palm Springs home and garden of renowned architect Frank Lloyd Wright – you can see that one below. Keep scrolling and, enjoy. Or as they say in the US of A: 'You're welcome.'
1. Dawnridge garden, California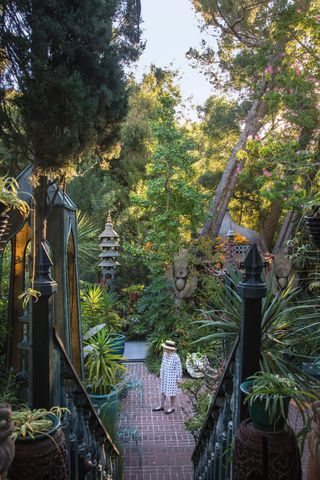 'Dawnridge belonged to Tony and Elizabeth Duquette and epitomises the world of fantasy held together just long enough for the camera to roll or the party to last,' says Monty Don in the book. 'It is a garden cobbled together from bits and pieces and is all smoke and mirrors – and yet it works. Tony Duquette had worked as a designer of jewellery, costumes, interiors and, above all, stage sets when he and his wife, who was a painter, moved into the house. At the time it was a tiny 30-by-30-foot box, but it nevertheless quickly became the scene of famous Hollywood parties attended by Ginger Rogers, Mary Pickford, Greta Garbo, Gloria Swanson and Aldous Huxley, among others.
'Marlon Brando rented the house in 1952 during the filming of Julius Caesar. It was never the Duquettes' only house – they lived in Paris and San Francisco and had a ranch in Malibu – but it was always a constant, and, above all, a party house. The garden really came into being rather later, when the house next door burnt down in 1973 and Tony Duquette bought the plot to extend his garden. It is now a wild melange of Indonesian, classical, Indian and European objects and assemblies all layered upon each other... Duquette made buildings that have a touch of Thai Buddhist stupa, a hint of Hindu temple and a smidgeon of Shinto shrine, all constructed from trellis, recycled doors, disco mirrors and fibreglass.
'There is a treehouse with a domed roof taken from a film set and with walls made from Second World War landing strips. There are pillars made from recycled tin cans sitting on top of ancient Islamic brass columns, unconcealed concrete block walls, old gateposts and fencing material with hinges roughly nailed to hold elaborately carved gates that are then painted and adorned and assembled to create what looks like an elaborate set for a party – which is exactly what it was.'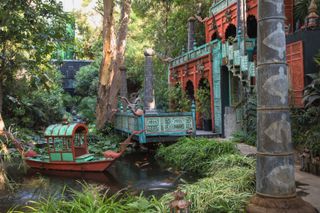 2. Bob Hope house and garden, California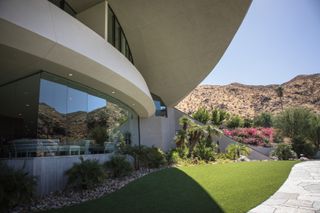 'I decided to visit Bob Hope's house in California, drawn by how its extraordinary placement on a hillside overlooking the Palm Springs valley would photograph. It was designed in the late 1960s by John Lautner. The house itself is like one vast sculpture.' And, of course, the garden is one vast golf course and leisure park – although, obviously private.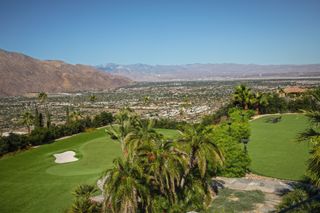 3. Palo Cristi garden, Arizona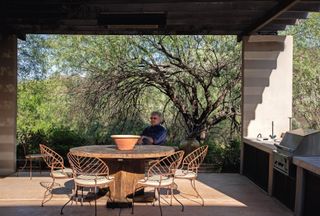 'Like me, Steve Martino loves deserts. But unlike me, Steve really, really knows deserts. Steve Martino also loves gardens, and he has spent his life combining these two passions into making gardens that use and celebrate the desert,' comments Monty.
'He has described his style as "weeds and walls" because desert plants have for so long been regarded as weeds, and he has from the first used them with the conviction that they are not just beautiful but right... Ironwood trees, agave, ocotillo and cacti spread shadow patterns on the pale grey walls of the house. "These shadows", Steve tells me, "are more important design features than the plants themselves. You have to design with light in the desert. The light is always harsh so you soften it by playing with shadows, and that gives you movement."
Softness is an odd word to use in the face of the spines and angles of the plants and the grit and stone underfoot, but I am thinking like a northerner. Shade is the ultimate friend here, and in its embrace light and heat provide the softness you need – and all the softness you are likely to get.'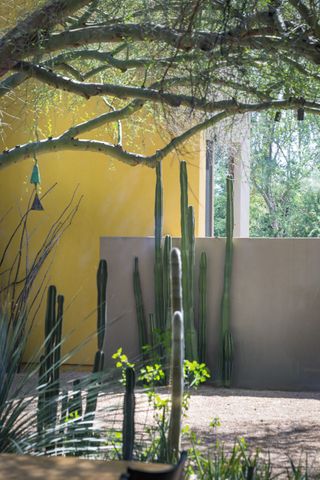 4. Vizcaya garden, Miami, Florida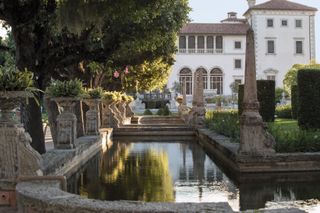 The owner of Vizcaya James Deering was, what Monty Don calls, 'limitlessly rich'. In 1912 he bought 180 acres of land in the Biscayne area of Miami and on this land he built his house and garden, which he called Vizcaya.
'Everything about Vizcaya is operatic, staged and mannered,' says Monty. 'It is house and garden as performance in the same vein as Isola Bella, or indeed any of the great Italian houses and gardens from which it derives so much. Guests would arrive by boat into a little harbour created by a breakwater modelled to look like a barge, and then, guided by the striped Venetian landing posts, take the steps up onto the quay or terrace and on up into the house, built to look like a Tuscan palazzo.
'The gardens, which are beautifully made and beautifully restored and maintained despite hurricanes and the depredations of time, blithely cherry-pick aspects from Italian gardens. There are pools, cascades and fountains, a grotto, topiary, clipped lines of trees and parterres, a theatre garden and maze garden, a casino raised on a mound, and glorious flights of steps balustraded and bedecked with urns.'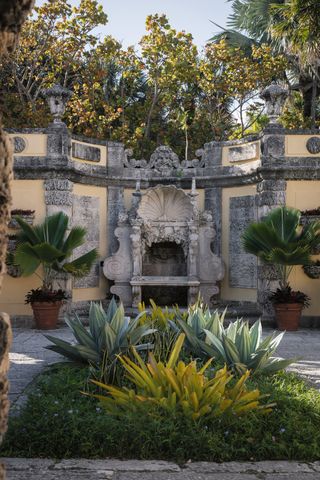 5. Kaufmann house and garden, Palm Springs, California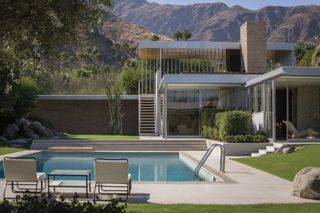 'This ... house [was] designed by the architect Richard Neutra for the department store owner Edgar J. Kaufmann to spend his winters... It was built in 1947 and is still the epitome of Desert Modernism... If this is not the archetypal icon of the American Dream – a little too sun-kissed and easy for that – it certainly exemplifies California Dreamin'. It has the same impact as a Hockney painting.
'The steps of the pool run across almost the entire width of the garden and start from the house, so there is no break, no season of 'going outside' to play or relax. It is a seamless line of pleasure... [T]he house was originally set in the desert, but... was open both to be seen and to the view – and that openness was part of the brave new Californian modern world it represented. It is now surrounded by other houses and has a high hedge to protect it from the coachloads of tourists who come to try and catch a glimpse of it – not, I suspect, for its iconic architectural status so much as for the fact that it once belonged to the singer Barry Manilow.'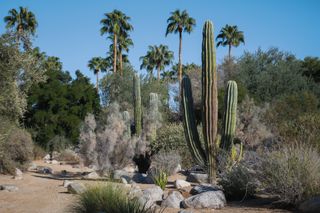 And now, back down to earth with a bump: