When summertime comes about and your garden is in full bloom, pruning flowers that need it and knowing how to deadhead roses properly is a must. And who better to advise us on the subject than BBC Gardener's World host Monty Don?
Monty Don's rose deadheading tips will ensure yours stay in good health and continue to grow lovely flowers throughout the season.
It's a simple process, even for beginner gardeners that are new to the world of rose pruning and unsure of how best to do it.
Monty Don's tips for deadheading roses
Writing on his 2021 blog, Monty Don reveals how to best encourage re-flowering in your rose garden, to enjoy delicate fragrance for as long as possible.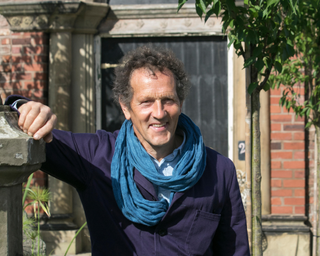 1. Cut in the right place
'Just pulling off the old flower heads will help but by far the best approach is to use a pair of secateurs and to cut back to the first leaf below the spent flower,' says Monty Don. 'A new shoot will then grow from this point.'
English roses breeders David Austin Roses suggest a different technique, whereby you pinch or cut off the finished flower, just below where the base of the flower joins the stem.
Secateurs are likely to give you a cleaner cut than using your hands and as for how far down to go, we're with Monty.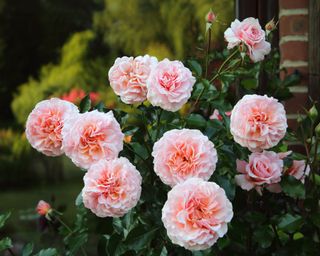 2. Deadhead daily midsummer
'When you dead-head you are effectively pruning and thus stimulating fresh side shoots which will bear new flower buds and therefore extend the flowering season,' Monty Don continues.
He also explains that by removing fading, brown flowers, you prevent the plant from developing seed. Plants use a lot of nutrients and water in order to make seeds, so dead-heading stops it and means the plant is more likely to flower again.
As for how often you should be dead-heading roses, Monty Don recommends doing it at least on a weekly basis, if not daily in midsummer, if you can to encourage reflowering.
3. Know the varieties that need immediate pruning
In an earlier 2020 blog Monty calls out different rose varieties, and when they will benefit from pruning and immediate deadheading. He says how Shrub roses need little pruning but that this is usually done in late summer or early autumn, noting how 'a once-over with a hedge trimmer has proven to be very effective.'
Monty highlights also that ramblers, best distinguished by their small flower clusters that bloom once mid-summer: 'need little pruning but should be trained and trimmed immediately after flowering as the flowers are carried mostly on stems grown in late Summer.'
So for a better looking rambling rose, be sure to give ''Bobbie James', 'Rambling Rector,' 'Paul's Himalayan Musk' & 'Wickwar' varieties in particular a little TLC as soon as their flowers are spent.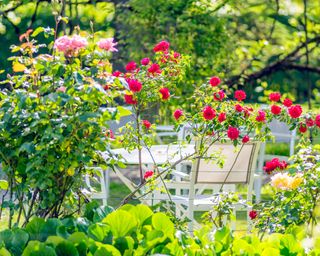 Removing any deceased foliage from your yard is a must for good looks and positive garden Feng Shui, particularly on roses as spent flowers can distract from the stunning color of any others still in bloom.
A must-have garden plant for every yard, remember to tend to spent flowers regularly so that you can enhance the health of your roses to enjoy the heady scent and beautiful classic blooms for longer.