Moving to Oxfordshire from Dubai and then Toronto, interior designer and blogger Georgia Broome and her husband James, a software engineer, were keen to find a family home for them and their young daughters.
Focusing their search around the school they'd chosen, Georgia originally discounted the house they now live in – but was the house's original 1950s parquet floor that eventually grabbed her attention. 'It had me the minute I walked through the door,' she says. 'It was the house that no one was willing to buy and it had sat empty for two years. We had a chance to make it a lovely family home again.'
With plans for an open-plan kitchen-diner fit for the four of them, the couple set to work redesigning the ground floor to create their dream layout. Here's how they achieved their modern yet homey kitchen.
The before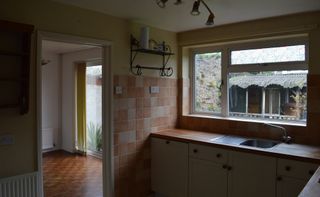 Georgia was originally put off by the house thanks to its overall condition. 'It had a shoddy side extension above the garage, the roof needed redoing, and the loft conversion wasn't up to regulations,' she says.
The kitchen was small and dark, with a jarring combination of terracotta tiles and yellow painted walls. The original sitting room ran from the front to the back of the house, so there was no separation between the family's eating and relaxing spaces – and the kitchen felt entirely separate from the rest of the floor.
The process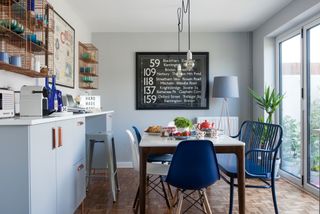 Keen to create an open-plan kitchen-diner, Georgia and James placed a stud wall in the middle of the living room and opened up the back room into the kitchen. Georgia chose an Ikea kitchen, jazzed up with copper handles, so she could spend more on other elements.
'My big splurge was the white Minerva worktop,' she says. 'I used the off-cuts as shelves in the pantry, and I even attached legs to the cut-out from the sink and made it into a side table. Literally not one bit of that worktop got thrown away.'
The Crate & Barrel bench at the dining room table is from a shop in Dubai. 'I saw it in the window and drooled over it for months,' Georgia says. 'It was in the hall in our flat in Dubai and our mud room in Canada. When we moved here, I took it to a local spray paint company and they matched it with the blue Eames chair. The kids sit at it to do homework and eat meals – it works really well and wipes down clean.'
The after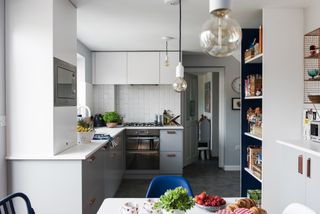 Although there was no extension involved, the light, airy feel of the new kitchen-diner feels like a brand new space. The room is full of treasures from the couple's travels, including an old French school poster detailing old-fashioned kitchen appliances. A framed list of bus routes from Brixton harks back to those Georgia and James took regularly in their years as a young couple.
The finished space is perfect for family life. 'Having grown up in France sat round the table as a family, eating breakfast and dinner together is something we do every day,' Georgia says. 'It's where we do homework; I sit and blog and do my Tesco delivery; we spend the majority of our time here.'