Madewell is a well-loved go-to for premium denim, cozy essentials, and reliable leather, but, take a closer look, and you'll see there's a lot more. In fact, you can fully embrace the Madewell lifestyle, not just dress like it. We discovered their perfectly crafted home decor section and we're asking ourselves, how did this selection of throw blankets, planters, and kitchen essentials fly under our radar for so long?
Under the Life tab, along with a whole section devoted to Wellness, lies the Home + Gift section, with respective categories for kitchen and bar, bed and bath, home decor, and even DIY and games. The next time you need a gift, want to browse some new art prints, or collect bespoke planters for your new plant, you'll want to bookmark this section. It's just that good.
Moreover, the majority of the decor items aren't Madewell branded, but rather a carefully curated selection of bedding, kitchen items, decor, and art from up and coming brands. It's part of what Madewell calls it Madewell Marketplace, which allows the businesses to be seen by Madewell's shoppers, but they handle fulfillment and customer service on their own. There's even a special section devoted to Hometown Heroes, where Madewell highlights various creators and makers from across the country, giving them a platform to reach a larger audience.
We rounded up several Madewell home decor picks that caught our eye, and we think you'll be pretty impressed with their selection. So yes, you can now buy your favorite jeans and aesthetically-pleasing homewares at the same exact time.
1. This color-blocked teapot that brings joy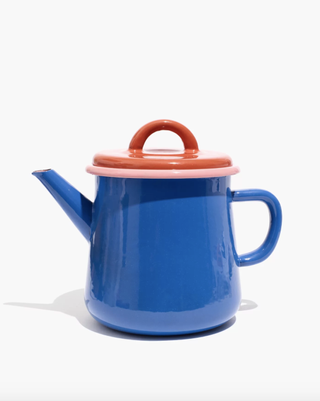 We're keen on leaving this precious kettle out on display every day. The handcrafted enamelware piece is crafted by traditional artisans in Turkey.
Buy: Bornn Colorama Enamelware Tea Kettle | $33
2. A splurge-worthy throw pillow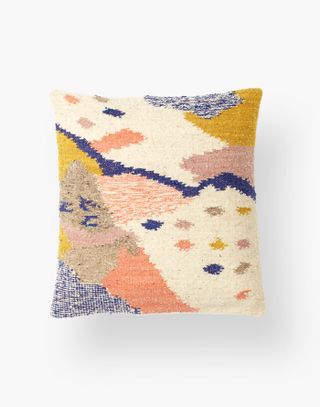 Don't mind us, just casually eyeing this stunning pattern inspired by cartography aka map-making. We'll let it take the spotlight as the primary dec pillow on our beds. It's designed by Upstate New Yorker Sara Berks who collaborates with skilled Guatemalan artisans who hand-weave this pillow on a pedal loom.
Buy: MINNA Wool Cartographer Pillow | $185
3. A stylish aromatherapy diffuser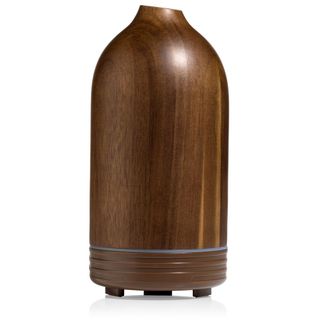 Campo is a woman-owned business between two best friends with a passion for clean and modern aromatherapy. This wood-toned diffuser brings new meaning to form and function with a device that fits right into your aesthetic.
Buy: CAMPO® Ultrasonic Natural Wood Diffuser | $97
4. A metal bin for keeping you organized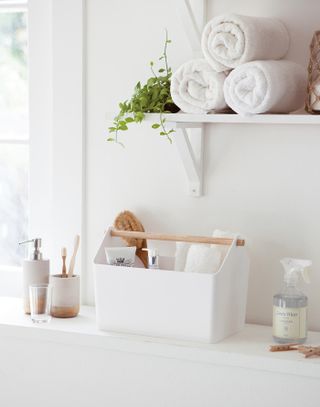 Yamazaki Home is renowned for its practical, modern organizational ideas with a Japanese design focus. For instance, you can use this metal box with a wooden handle anywhere in your home. Seriously, you'll want to stock up on these baskets to contain toys, store cleaning supplies, hold pantry essentials, organize bathroom products, and so much more.
Buy: Yamazaki Home Favori Storage Box |$33
5. This inspirational message for your gallery wall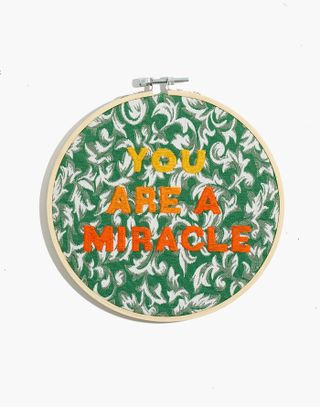 This bright green embroidery hoop from Kentucky-based artist Ciara LeRoy is the positive reinforcement we need. Incorporate the hand-embroidered piece into your gallery wall design, or let it shine on its own.
Buy: Pretty Strange Design Hand-Embroidered Everyday Miracle Wall Art | $85
6. This chic black and white towel set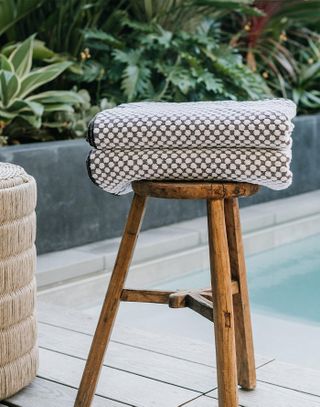 Founded in 2015 by surfer buddies (so you know they appreciate a good towel), Slowtide creates bath and beach towels that perform just as well as they look, with an emphasis on art and design. Refresh your bathroom with the eye-catching black and white Clive bath towel set, which includes two bath and hand towels. They're made of absorbent and sustainable cotton with an embossed woven texture that takes spa-like to the next level.
Buy: Slowtide Clive 2-Piece Towel Bundle|$99.95
7. This gauzy, reversible coverlet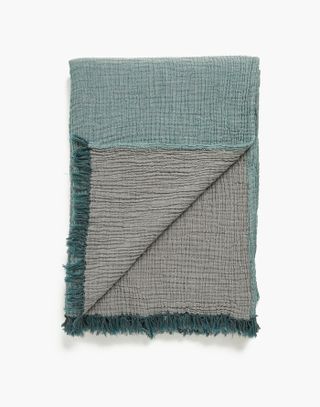 Texturize your bed with this queen-sized coverlet, that is both lightweight and supersoft. It's also reversible, so you can style it with the color depending on your mood.
Buy: HOUSE No. 23™ Alaia Bedspread | $225
8. This deconstructed planter, featuring crystals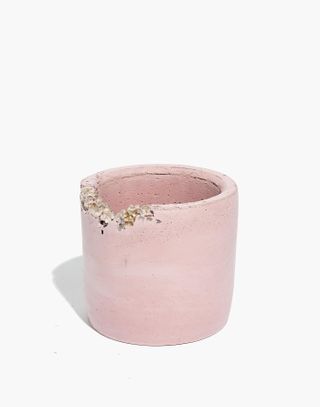 Your plants will love their new home base, especially this hand-poured cement planter, accented with raw crystals, from Austin-based artist Sarah Miller. It's both industrial and bohemian at the same time.
Buy: Awkward Auntie Crystal-Accented Cement Cylindrical Planter | $46
9. This noteworthy collaboration with a top kitchen brand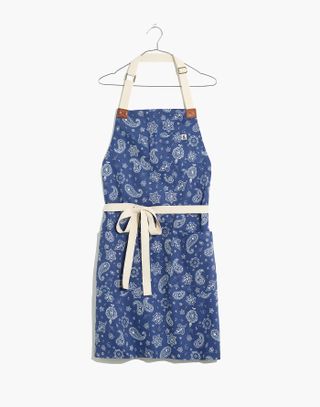 Among pro chefs, Hedley & Bennett aprons are a well-known staple, and now they get the Madewell seal of approval. This bandana-print apron will have you feeling like a Top Chef with a laid back style, with thoughtful features like adjustable neck strap and ties, three roomy pockets, and a loop for holding tongs or dishrags, whatever.
Buy: Madewell x Hedley & Bennett Bandana Apron | $90
10. Art prints that inspire our wanderlust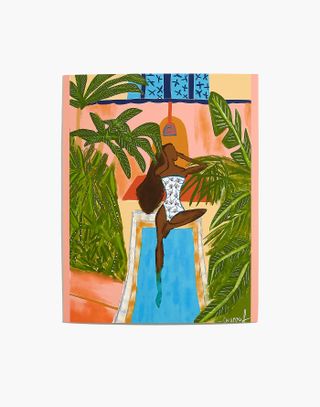 One day, we'll get to travel again. Until then, we'll be hanging this 8x10-inch graphic art print by California artist Diarra Bousso to keep us dreaming about the grand vacations and exotic excursions to come.