You know what we're thinking? A garden gazebo will be a must-have. Think about it: this summer, we might be able to have a few carefully chosen friends round to sit in the garden – no doubt 2m apart – so having some shelter makes sense, right? And before gazebos become as sought after as loo rolls, flour and face masks, we thought it made sense to find one now. And this one's brilliant, pre-lit AND on sale. Marvellous.
Check out our dedicated garden page for advice, more buys and ideas
Complete with 96 LED lights – bringing the party to you – this Swing & Harmonie gazebo comes in six different colours and will be sure to make a statement in your garden. Come the end of lockdown, you'll be inviting all your mates over to show it off. Not only can it offer a place to spend time outside away from the rain, but it offers protection from the sun, too. Because none of us want to be stuck inside all day every day, and if you have a garden why not use it? Even while it is drizzling outside...
Benefitting from four mosquito nets (with zippers of course) and two opaque side walls, it's made from 100 per cent polyester and is both water and UV-resistant. Perfect! Pop it up, turn those lights on and enjoy... oh, and don't forget the Prosecco.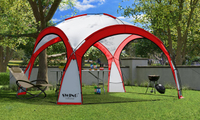 Swing & Harmonie Gazebo | Was £399, now £139.99 at Wowcher
With 360ºC ventilation, even on the hottest days of the year, you'll still be able to cool down under this gazebo. It can be set up fast, popped into a bag at the end of the season and you can turn the lights on and off by hand! It's also sold at Groupon, too, for £139.99 if you're interested.