Forget a wallpapered feature wall, because it's all about the mural. Speaking on a recent appearance of UK daytime TV show This Morning, interiors expert Laurence Llewelyn-Bowen explained why a large-scale mural is a great living room hack.
Speaking to a viewer named Chelsea on how to style her new living room shelves, the former Changing Rooms host honed in on the wall between the shelving units, which he saw as a blank canvas crying out for a mural.
'What I'm really interested in is the space between the cupboards, because I think that's the perfect place for a digital mural, and there are loads of companies doing them now,' Laurence says.
See also: The clever home hack Laurence Llewelyn-Bowen says 'the entire nation will be doing soon'
'You don't have to go for woodland scenes and flying ducks, but a big blow-up of an old master painting with flowers, fruit, landscapes, or cherubs - something that really catches the eye.
'It will make it feel very modern but at the same time quite romantic and give you traditional references as well,' he adds.
So you could be missing a trick with your living room decor, as a big mural isn't something that always springs to mind when decorating. We go back and forth trying to decide on the right shade of paint color, forgetting that a mural has an instant impact - plus loads of personality. What's more, they can be made using decals, ideal if you're renting.
Murals are a shortcut to making a real statement in a room that might otherwise feel like it's missing something. Be confident and cover a wall top to bottom in a mural that you love looking at, whether it's a bold botanicals or a more subtle print that makes you feel like you're up in the clouds.
See also: How to design a mural: 10 steps to create a feature in any room
It's more interesting than a feature wall with a different color of paint, and adds texture, interest, pattern and color in one bold move.
A mural effortlessly makes a focal point within a room, and a whole lot of character. While it's important to pick carefully as it's something you'll see every single day, it shouldn't be something to agonize over. After all, these things can be changed if you find you've had enough of it.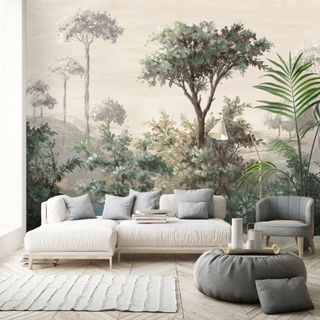 We're willing to bet that once it's up, it won't be going anywhere.