Kids missing that pesky park? Buy them their own swing set and reap the benefits (e.g. some peace and quiet) while the sun's on your side. We've found a budget-friendly option that's just £149.99. It's a double set and it's made from premium European pine! It can also be painted a colour of your preference. Can't get better than that...
The TP Forest Wooden Double Swing has two adjustable seats and you can quickly assemble it yourself. Better still? It's available for delivery so that you don't have to go out to the stores for this (non) essential.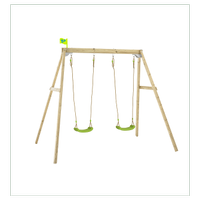 TP Forest Wooden Double Swing | £149.99
A bargain price for a double swing set, this one comes with two wooden adjustable seats and it's easy to assemble. You can paint it any colour you like so it'll fit in with your garden decor, too. No multicoloured eyesores around here...
Better news? This swing set also comes in a single option for £129.99! Click here to view the TP Forest Wooden Single Swing.
Head over to our gardens page for advice, product recommendations and more. We're all spending a lot more time in our outdoor areas at the moment...
Some paint to jazz it up...
And some garden furniture for you...