Yes, ripple mirrors are still trending. Don't believe me? Just take a scroll through my Instagram feed, and I'll easily prove you wrong. At one point, I was very much lusting after one of these mirrors. What put me off? The hefty price tag, and before you suggest it: DIYing isn't even an option as I'm a total klutz. So, it wasn't until I spotted this dupe when browsing Dormify that I realized my ripple mirror dreams might finally come true.
Yes, this mirror looks exactly the same as Jonathan Adler's famous ripple mirror, which costs $500. For anyone who thinks that's a little too much for a mirror (me included), what I am about to show you is a top-notch find. Dormify's own dupe looks wildly similar and it's only $35.
I love this as a vanity mirror or leaned against a wall atop a dresser. If your landlord is a generous one, then you can obvi hang it on your wall. Just be sure to place it somewhere where it will bounce light around your space. It could also work as an entryway mirror if you don't want to confine it to your bedroom. Regardless, get this mirror in your shopping cart stat.
The Jonathan Adler mirror dupe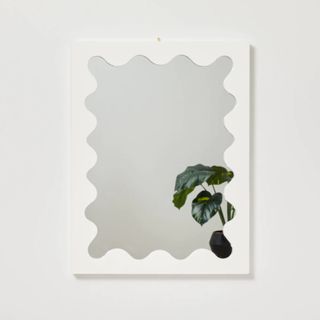 $79
Dormify Lola Medium Ripple Mirror
The Dormify dupe
Size: L24" x W18"
Elegant in white.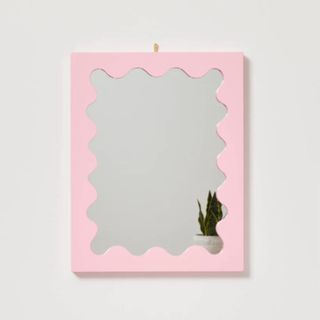 $35
Dormify Lola Small Light Pink Ripple Mirror
The small(er) dupe
Size: L14" x W11"
Pretty in pink.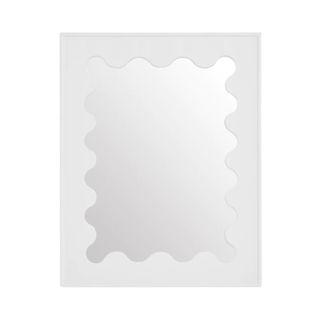 $500
Jonathan Adler Ripple Lacquer Mirror
The real deal
Size: W26" x D1.25" x H32.5"
It also comes in blue.
What's the difference?
Other than the huge price difference, the Dormify dupe comes in small or medium, and in your choice of pink or white. Over at Jonathan Adler, the mirror comes in a slightly bigger size than the medium, but in white or blue.