Nothing makes us feel quite so festive as putting up the Christmas tree with festive songs playing, Bailey's in hand. If you fancy trying something different this year, why not go for a white Christmas tree?
An interior designer tells us this vintage tree is in fact her favorite option when picking out the best artificial Christmas tree, and shares a decorating tip to make yours look chic.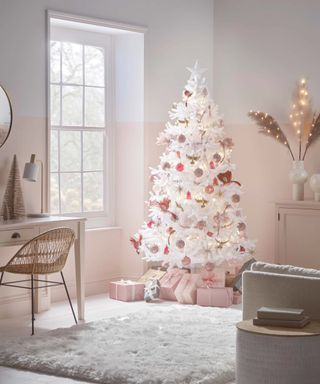 Kelley Sandidge is an interior designer from Austin, and the owner of Hip Haven, a midcentury-modern design source. The interiors expert recently shared some of her festive decor tips with us, and revealed that she always opts for a white tree to honor the era and style of her home.
'Though I grew up using real trees, and love the ritual around that, we use artificial trees now,' says Kelley. The Texas-based designer tells us that when she and her family moved into their 1963 house, they got a white Christmas tree 'to really play up the retro style.'
White Christmas tree tip
Kelley recommends adding brightly-colored ornaments to a white tree. She goes for vivid tones, 'with more pink and turquoise in the mix,' to contrast against the white branches.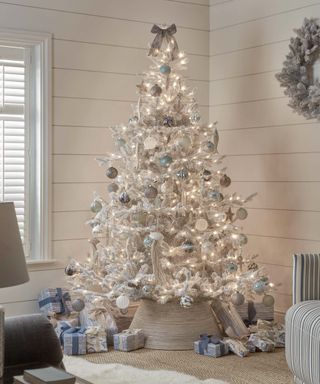 The neutral base of a crisp white tree makes even pastel tones and metallics pop. 'Because we have a large collection of ornaments from several generations, we do a slightly different edit each year, with a specific color palette,' Kelley says.
A white Christmas tree is a totally blank canvas, so you could go for all kinds of styles, from glam to rustic, minimalist to maximalist. Embrace natural greens and earth tones for an on-trend, woodland-inspired look.
Or, take inspiration from The Home Edit's rainbow Christmas tree for a bold statement that will go down well with the kids. As Kelley says, you can experiment with different looks each year.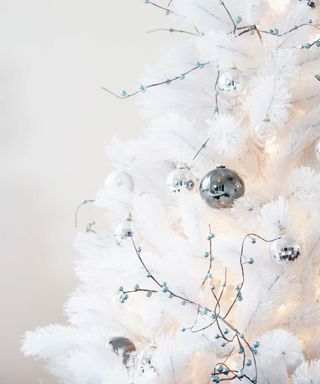 What does a white Christmas tree mean?
The dark green tones of traditional Christmas trees are associated with the natural world, while white symbolizes purity and peace. Conjuring up images of a white Christmas, a white tree looks just as festive as a classic Nordmann fir.
Google Trends shows a spike in search for faux white trees this year and last, suggesting that they're having a resurgence — along with other retro Christmas decorations.
Are you dreaming of a white Christmas tree?