If you've yet to see The Home Edit's Christmas tree, you need to head to their Instagram ASAP. It's basically their iconic rainbow bookshelves in twinkling Christmas tree form, and they have used some very special Christmas lights to achieve the look.
Not only are the baubles arranged in a perfect ROYGBIV gradient, but the lights go through all the colors of the rainbow, too. Clea has taken her organisational skills to the next level by investing in the best smart Christmas lights. Tt's so, so neat that any Home Edit fan would know just who was behind it.
The home edit rainbow christmas tree lights
When Clea shared a time-lapse of her and her family assembling the multi-colored masterpiece on Instagram, she said that the tree is in the kids' playroom of her home.
'Which means I will be hanging out in the playroom a lot over the next two months!' she writes.
The queens of organization have created similar trees in the past, but, this year, they opted for a white artificial tree as the backdrop to the rainbow creation. Our roundup of the best artificial Christmas trees includes a lovely white option if you're planning a technicolor tree.
The specific lights on the tree are special LED lights from a brand called Twinkly. In her Instagram stories Clea demonstrates how she has been able to customize each strand of lights to be the perfect color via the Twinkly app.
The free app allows you to map out each individual bulb on your tree - a neat freak's dream. From hearts to stripes, it gives you plenty of control in creating a design or pattern unique to your home.
The Twinkly lights have already proven incredibly popular, when we first looked the versions that Clea used were already sold out on Amazon. However, the good news is they are now back in stock and you can buy the rainbow Twinkly lights on Amazon. However, if you do miss them again, they are also available from Walmart.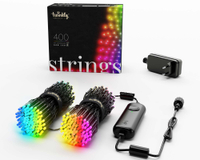 Twinkly TWS400STP 400 RGB LED String Generation II | $149.99
The multi-colored Twinkly Christmas tree lights are perfect for color lovers looking for something different this year. Bring the wow factor to your tree with a unique design that you can create on the Twinkly app.
'We are honoured to see that The Home Edit have used Twinkly lights to dress their Christmas tree,' says Alessio Mancarella, Head of Marketing for Twinkly. 'The rainbow tree is a perfect example of a customized Christmas look and shows just how easy it is to create bespoke lighting designs in your home with Twinkly.'
Have you been inspired by The Home Edit rainbow Christmas tree or will you be going more traditional?