These are the things you should never buy new for your home, according to Toronto-based interior designer Rebecca Hay. While buying your pieces from sustainable furniture brands is one way to ensure that your home makeover isn't terrible for the environment, opting for vintage furniture has all kinds of benefits.
Rebecca has a passion for incorporating sustainable design practices into every project she takes on at Rebecca Hay Designs. She explains that not only does vintage furniture have 'little or no new carbon footprint', but also 'older craftsman furniture has been made to last, and have a longer lifespan over new big-box store furniture that is sometimes not well-built and will break in 5-10 years.'
Besides, older furniture just has a je ne sais quoi quality – 'the imperfections in the furniture add to its character and can tell an old story in a new space!'
This doesn't mean that all of your furniture has to be second-hand, but if you want to maximize on quality and style where it really counts, these are the items you should buy vintage not new, according to Rebecca.
1. Bathroom vanity mirrors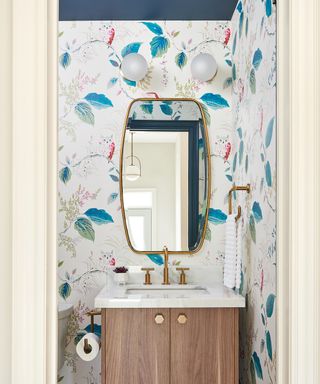 Great as traditional bathroom ideas, or to inject a contemporary bathroom with elegance, vintage vanity mirrors can make a big impact.
'These can be a fun surprise when you enter a powder room,' says Rebecca. 'I love old vintage brass frames, they add warmth and elegance. Just make sure the glass is in good condition and it's fitted properly for hanging. Otherwise, you may need to take the mirror to a picture framer to add a wire or mounting bracket to the back.'
2. Dining room tables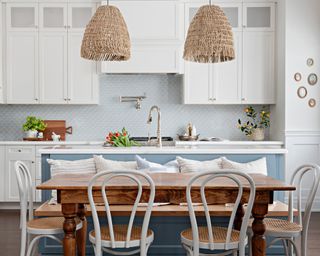 A great dining table is the cornerstone of all great dining room ideas, and vintage dining room have the heft and quality that many new ones lack. Rebecca explains that old dining tables can offer exceptional 'durability - especially when there are children in the home.'
If you choose well, you could enjoy the same great dining table for decades. Rebecca recommends looking 'for solid wood versus veneer so that you can re-finish and potentially re-stain it to fit the colors in your home. Also, check to ensure the legs/base are fastened tightly and that there are no chips.'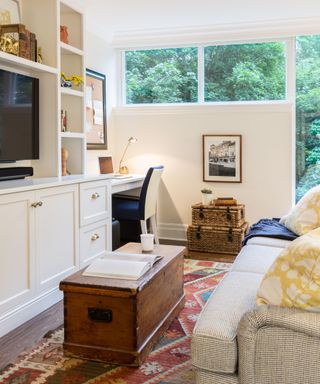 3. Metal bed frames
It can be tricky to find a vintage wooden bed frame in a good condition, but you may have better luck with a metal frame. 'I love an old metal bed frame!', says Rebecca. 'My daughter has a century-old four-poster bed frame that adds so much interest. It's painted white but could be painted any color to suit.'
Rebecca does advise to 'keep an eye out for rust when you're buying an old metal bed frame. A little rust can be tidied up but a lot could mean more structural damage than is worth it.'
4. Occasional tables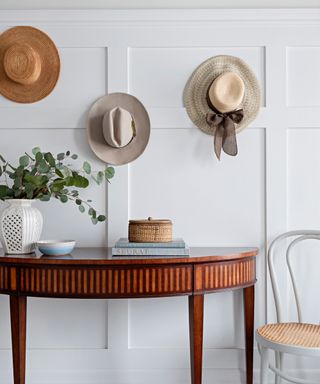 There's a reason why Mid-century modern furniture is in such high esteem – there's just nothing quite like the solid construction and warmth of Mid-century pieces, particularly occasional pieces. From console tables to coffee tables and sideboards, vintage occasional furniture definitely has an edge over new counterparts. Rebecca especially recommends placing 'an old card table' in a foyer for added 'grandeur and elegance.'
So before you head to the IKEA website, maybe take a little time to see what pieces you could be sourcing second hand.