We know you know how to make a den. It's like riding a bike, you don't forget those skills. But we think it's time to up those skills from creating a fort with the sofa cushions, and building your kids an adorable little nook under the stairs that they can play in this Bank Holiday Weekend.
For this really simple DIY, all you really need to do it throw some cushions under your stairs and pop up a makeshift curtain, but we think you can make it extra special with paint, accessories and, of course, fairy lights! So keep scrolling to find out how to recreate this look, and make sure you head over to our weekend projects hub page for loads more creative ideas you can do this Bank Holiday.
You will need:
A micro fibre cloth
Paint – three colours will work best
Step one: clear out under the stairs
Come on, you know it needed doing anyway. Once the space is empty, fill in any holes or cracks with Polyfilla and let that dry before sanding down the walls and wiping them over with a microfibre cloth.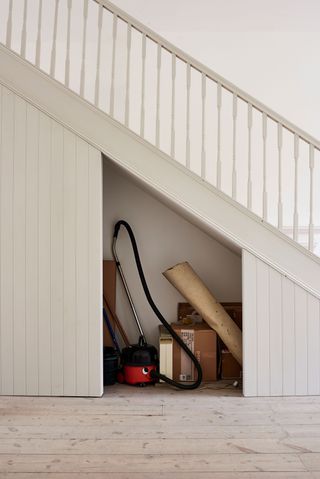 Step two: paint your undercoat
Depending on the state of under you stairs you might want to give it a couple of coats of paint before you start painting on your pattern. You can just go with white as your base or a cute pastel – just keep whatever colour you choose light. Let that dry before moving onto the next step.
Step three: create your shapes
Use masking tape to create your geometric shapes. There are really no rules for what pattern you want to make just get creative. Make sure to really stick down the tape so the pain doesn't run when you paint over it. If you are really concerned about creating a really clean line, you can seal in the tape with white paint.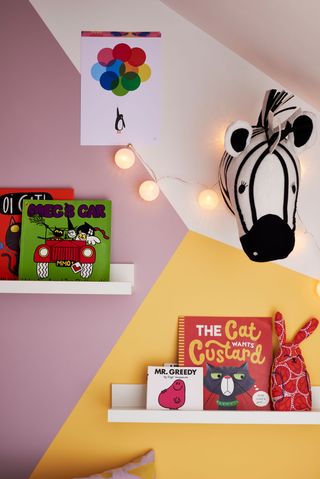 Step four: get painting
Now just get painting in between your masking tape lines, changing colour for each shape you have created. For the smoothest finish use a roller. Allow your paint to dry and then remove the tape.
Step five: add your decoration
Now for the fun part! Just go to the town with the decoration and making it lovely and cosy. Pop some cushions on the floor and hang a curtain over the entrance. String up some fairy light and add cute prints to the walls! Add and iPad with Disney + and your kids will be entertained for at least a day, winning.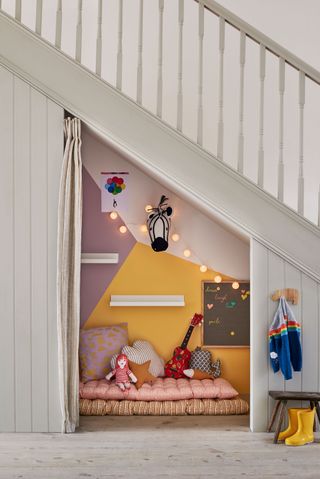 Read more: