A dining table has been at the top of my home furniture list for ages. I've spent hours searching for the right one. My criteria is that it has to be effortlessly stylish, but versatile enough to take with me if I ever leave my rental. So, when I saw this Bryant dining table from Walmart, I knew I found what I'd been looking for.
This table is from the store's Better Homes & Gardens range, which has lots of Insta-friendly, trend-forward pieces in its collection. I think this table in particular is seriously timeless. From its rustic design to its durability, there are plenty of reasons why I love it. Not to mention the price — it's currently $33 off, making it just $229.
If you're looking for a dining table that will fit into your decor scheme at an amazing price, I've got you. Here's everything you need to know about Walmart's Bryant dining table, and why designers and shoppers say it's a great addition to any space.
Where to buy the Better Homes & Gardens Bryant Solid Wood Dining Table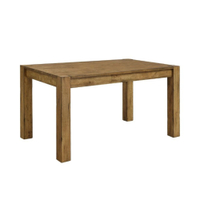 Better Homes & Gardens Bryant Solid Wood Dining Table | Was $262, now $229 (save $33 at Walmart)

Size (in.): H30 x W58.5 x D35.5
Made from: Wood
Colors: Maple brown, dark coffee

Looking for a chic table that'll work anywhere? This pick complements all home designs, fitting in with everything from Scandi design to contemporary tastes. It's made with 100% wood, so the design has natural knots and splits that give it a unique charm. The table is sold in a single pack, but you can buy matching chairs and benches if you want to complete the set.
More reasons to love the Better Homes & Gardens Bryant Dining Table
Madison Popper is an interior designer and founder of global interior design firm Chill Casa, which is located in Miami Beach. Popper and his dedicated team of experts have mastered the art of breathing life into spaces that not only impress, but also leave an indelible mark on those who experience them.
There's one design trend that just hasn't gone away, and that's farmhouse. It's easy to layer a range of pieces around, and is just really cozy and wholesome. This table encompasses everything that's great about farmhouse style. "A rustic wood dining table is a savvy purchase that hits all the right spots. It's got that classic farmhouse style that just screams charm and character," says Madison Popper, founder and interior designer at Chill Casa.

Not only this, but this table is a real statement piece. "You can plop this beauty right in your dining space, and it'll steal the show," explains Popper. As well as this, it can be used in a host of different ways, for years to come. "It's very versatile and durable, so whether your home's vibe is modern, traditional, or a bit of both, this table fits right in and will weather well. It might even look better with age, making it a great investment piece," Popper adds.

It can be used with dining chairs or benches, so whether you want a relaxed dining feel or something a li'l more formal, it works either way. If you already have dining chairs, chances are they'll go with this. If not, you could really play with different style chairs to go with it. As well as wooden ones, colorful ones and white faux leather ones could all create a chic look.

What's the real clincher? Affordability. Popper explains: "It won't break the bank, and it is easy to maintain — just a bit of regular cleaning and a touch of upkeep, and you're good to go. It's a smart choice for elevating your dining space, on a budget!" Basically, it's totally the dream dining table sitch.
What do reviewers say about the Better Homes & Gardens Bryant solid wood dining table?
With over 500 five-star reviews, there's lots of reasons why so many Walmart shoppers are raving about this table.

"This is perfect for a rustic modern farmhouse table. It is super sturdy, well made and beautiful!" — AndreaRae

"This table is worth more than 5 stars! It is top-notch quality. Legs are solid and can easily sit 6 people." — Gus

"This is exactly what I needed for my small dining room It is sturdy with a simple but beautiful design. Mine came in perfect condition - no scratches." — Grace

"Easy to assemble and very easy to clean. It will be also be easy to take apart for the next move too!" — Momof4inIndy
---
If you're looking for a dining table that has it all, Better Homes and Gardens Bryant dining table is a really smart, sophisticated buy. Oh, and if you're looking to decorate your home this season, Walmart's fall decor range is well worth a look, too.