The link between Cameron Diaz, Halle Berry, and now Gordon Ramsay? HexClad cookware.
After finding the beloved brand on Instagram (over a year ago), the multi-Michelin-star chef tested it out first-hand, and the verdict? He's been incorporating the cookware into his everyday cooking essentials ever since.
Ramsay was fascinated by HexClad's patent laster-etched hexagon design and hybrid design. To the point, he's deeming it one of the best non-stick frying pans — and he is not alone.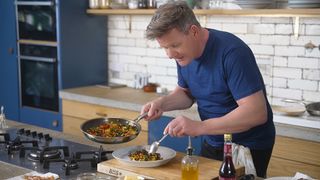 This innovative HexClad cookware claims to be the only true hybrid on the market — with both a stainless steel and non-stick surface — each piece offers patented laster-etched hexagon design and tri-ply construction.
Plus, if cooking like your favorite A-lister wasn't enough for a reason to go all-in on this innovative cookware, let us also mentions that no sticking equates to little-to-no clean-up. So, for anyone short on time or cooking for larger groups, this is most definitely going to be music to your ears.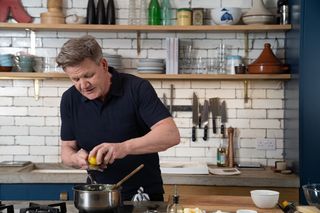 Go ahead and factor in that HexClad is PFOA-free, dishwasher safe, oven safe (up to 500-degrees!), induction-ready, metal utensil safe, and comes equipped with stay-cool handles? The lifetime warranty is just the cherry on this already top-pick.
So, for those looking to follow Cameron Diaz, Halle Berry, or Gordon Ramsay's lead, we've gone ahead and rounded up four can't miss HexClad cookware essentials to whip up Michelin-level meals! And bonus: Some of it's currently on sale.
HexClad Cookware: 3 Celebrities who can't get enough of the brand
1. Gordon Ramsay
2. Cameron Diaz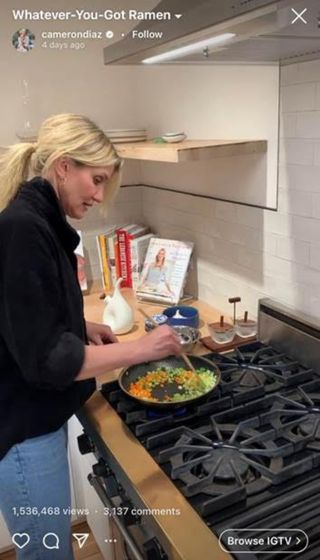 3. Halle Berry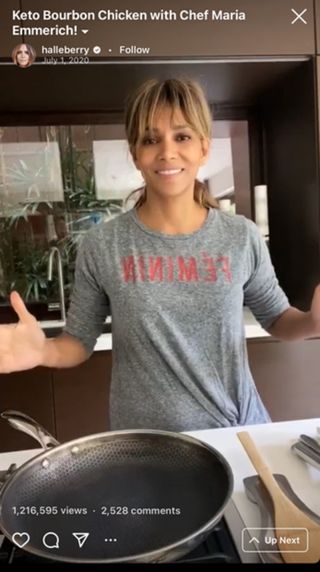 HexClad Cookware: What to buy
1. This hybrid pan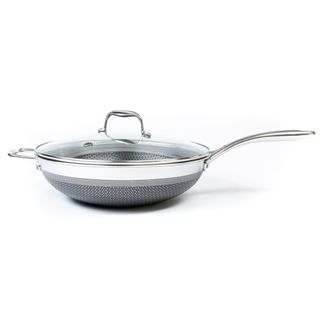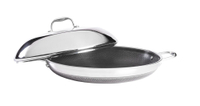 14" HexClad Hybrid Pan with Lid l Was $199, Now $179.99, at HexClad
The brand-new HexClad 14" Pan is the largest and most versatile frying pan. Suitable for large family gatherings and all of your everyday needs, it's the only true hybrid — stainless steel and non-stick — offering that features a patented laser-etched hexagon design and tri-ply construction.
2. This hybrid wok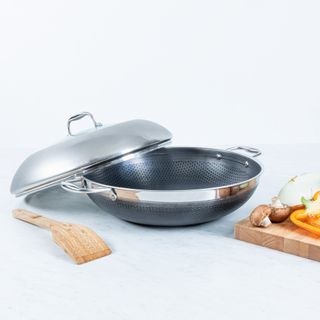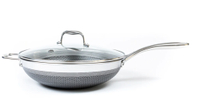 HexClad 12" Hybrid with Lid for $199, at HexClad
Composed with the same hybrid model — stainless steel and a non-stick surface— this 12-inch wok is 3-inches deep, allowing for high volume cooking and perfect for stir-frys, sauces, pasta, soup, and more.
3. This 10" pan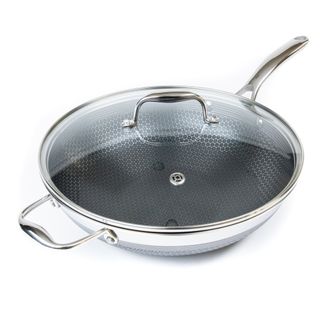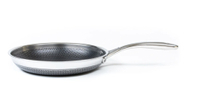 HexClad 10" Clad Stainless Steel Pan l Was $137, Now $109.99, at HexClad
Suitable for gas, ceramic, and electric cooktops, this 10" non-stick, stainless steel 10-inch pan provides restaurant-quality results while protecting the pan from peeling and flaking.
4. This Oprah-approved 7-piece set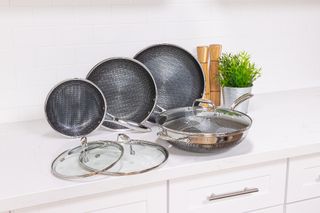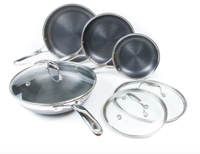 HexClad 7-Piece Hybrid Cookware Set with Lids and Wok l Was $539, Now $399.99, at HexClad
This non-stick, stainless steel 7-piece set includes everything you'll need to become the next Top Chef. For one price, you'll receive a 12" pan with lid, a 10-inch pan with lid, an 8-inch pan with lid, and a 12-inch wok for the ultimate chef experience. Plus, it comes with Oprah's seal-of-approval!