Halloween costumes are a must-have for trick or treaters, party goers and, er, just to make the baby look scarily cute. But where to get the best buys?
Well, we have a treat in store to raise your spirits! We've had a whizz around and chosen some suitably spooky costumes so you can look the part this hair-raising Halloween. And, don't worry, everything is from affordable supermarkets and online shops... no expensive boo-tiques here. (Get ready for loads more terrifyingly bad Halloween jokes.)
For more deals on your favourite buys, go to our dedicated hub page
1. Best Halloween costumes for babies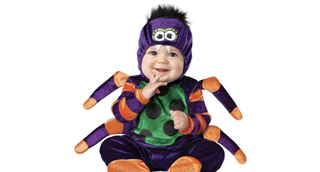 This cute little spider costume will have your baby creepin' it real this Halloween. Firstly, need we say that it is adorable? From the hood with the tufts of black hair and spikey teeth to the little legs sticking out, your little one will get you over your spider phobia fast. Plus, it's super practical with slip-resistant feet and leg poppers for easy nappy changing. We're clicking 'buy'.
Buy it on Amazon Itsy Bitsy Spider, £19.99 to £24. Buy this Itsy Bitsy Spider Halloween costume, from $20.49, in the USA.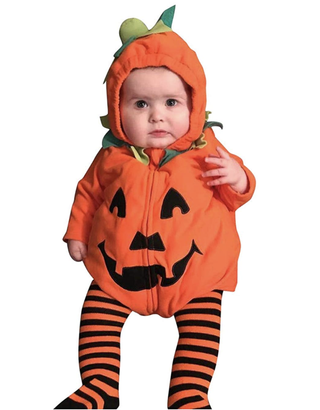 OMG what about the pumpkin baby?! Cute! Harvest Festival from Halloween in one costume. Love it (although that baby doesn't look convinced). Muiuum Pumpkin costume, £2.92 - £9.95, Amazon. Buy this adorable Pumpkin baby Halloween costume, from $4.28, in the USA.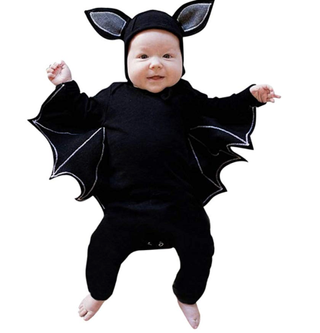 Hahahahaha! Okay, that's it. We're handing in our notice collectively and getting jobs as baby Halloween costume designers. How. Much. Fun. Would. That. Be.?. This Keepwin bat baby costume costs from just £1.99 at Amazon. Buy this black bat Halloween costume, $12.99, in the USA.
2. Best Amazon halloween costume for kids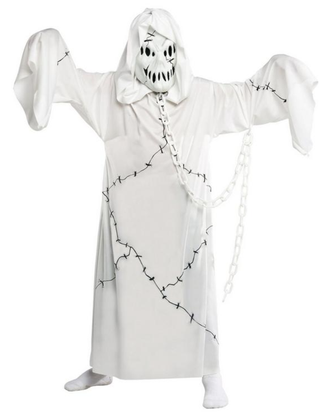 Need a ghost outfit (who doesn't?)? This is a can't go wrong one that boys and girls can share (not at the same time, obvs). Cool Ghoul child's Halloween costume, £12.99, Very.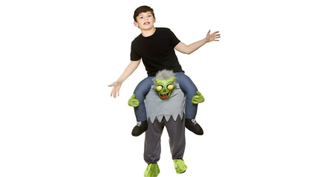 This costume is priceless and there's no doubt that seeing your little one with their fake legs strapped onto a kidnapping monster will have everyone howling. This idea is original and fuss-free. Ditch the face paint and DIY kit, this Halloween costume requires its wearer to add nothing but a t shirt. Carry Me® Zombie Kids Costume (eight to 10 years), £29.98. If you love the piggyback concept, and are buying in the USA, there's loads more where that came from, on Amazon.
3. Best Halloween costumes for girls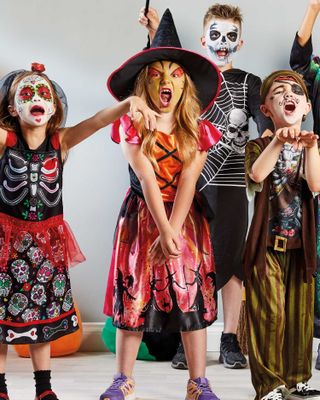 Dressing up as a witch for Halloween is a tradition for many. However, it's witchful thinking to believe that your little one will be satisfied with last year's witch costume. Sigh. That's why we did the legwork to find a super cheap hat and dress from Aldi. The bright, fiery colours mean she'll stand out from the crowd and hopefully stay out of (double, double, toil and) trouble! Children's Witch Costume, £4.99. That cute little Day of the Dead dress and veil on the left hand side is only £4.99, too, as are the other costumes shown.
4. Best Halloween costumes for boys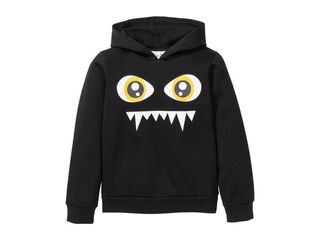 Lidl has some fang-tastic Halloween costumes in store this year. But we really like this hoodie, £8.99: it's great for cold treat-or-treating weather and can be worn after Halloween without your child looking like he/she is in fancy dress. Trackie bottoms and other designs available, too, Lidl. Whaahhaahhaahhaaaaa! (sorry)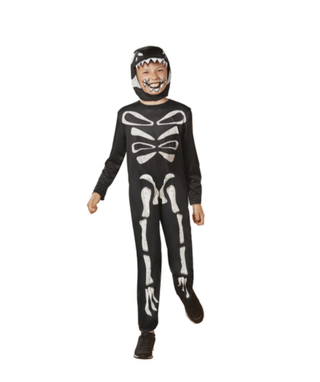 5. Best Halloween costumes for men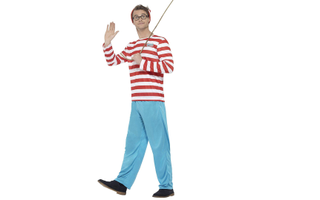 Who said Halloween costumes had to be scary OR just for kids? We think a good Halloween costume is just one that makes people go 'Ooooooh'. This Where's Wally? costume is original, eye-catching and super easy because it comes with everything: top, trousers, glasses & hat. Smiffys Men's Where's Wally? Costume, £26.96, Amazon. Buy this Where's Wally Halloween costume, from $31.55, in the USA.
That said, we're pretty sold on this more on-theme Day of the Dead Señor Bones Halloween costume, £34.99, Very (below).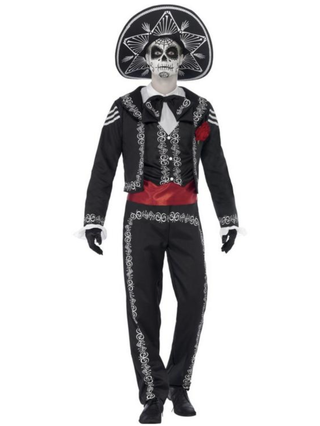 6. Best Halloween costumes for women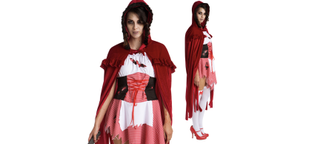 This red and white dress has a lace up the front and comes with a red hooded cape. The iconic costume with a twist could be squirted with a bit of fake blood as a finishing touch. We'd wear thick tights with that, though, not stockings... it's chilly out you know. Women's Little Red Riding Hood Zombie Halloween Costume, £9.95, eBay.
Or... maybe you want to solve a bad hair day and frighten the life out of the neighbourhood's children when you answer the door? Here's how: with an old witch's mask with handy headscarf, £7.69, Amazon (below). Buy this scary Halloween mask, $12.99, in the USA.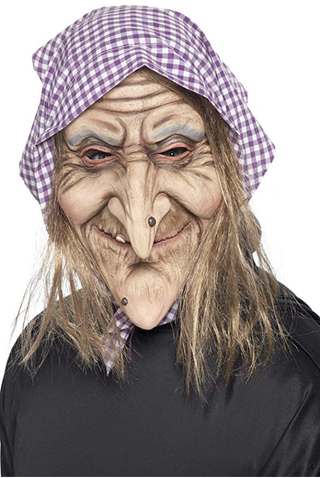 7. Best Asda Halloween costume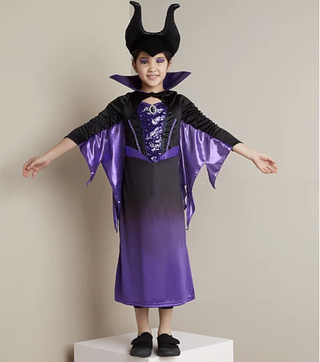 This Disney Maleficent dress from Asda has everything for only £15! It's got straight five star reviews, with everyone commending how expensive it looks. The dress has sequin detailing and a stand up collar and comes with a headpiece with attached horns. The metallic batwing attachments and jewelled brooch detail are the finishing touches. Disney Maleficent Halloween Fancy Dress Costume, £15, Asda.
8. Best Morrisons Halloween costume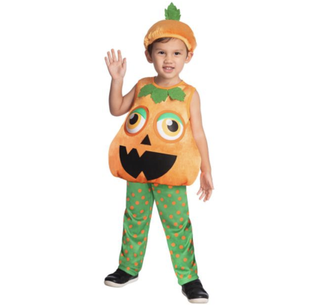 Is there anything cuter than a child dressed up like a pumpkin (see above)? Nope, that's what we thought. The reason we love this costume so much is that it sticks to the Halloween theme without being scary, 'cos sometimes kids are quite literally scared of their own shadows. The little hat and comfy trousers will make sure your little one is cut out for the cold October. (Pssst - we suggest wearing a long sleeved top underneath the pumpkin vest.) Kids Pumpkin Costume, £8, Morrisons.
9. Best Halloween costumes from eBay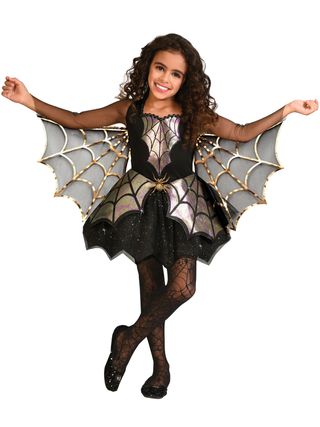 If your little girl is after that pretty scary look this Halloween, this iridescent Spider costume is your go-to. The black dress has a star print net skirt and iridescent, spider web design skirt overlay and front panel in gold. The tights aren't included. Kids Bat Vampire Outfit, £21.95, eBay.
10. Best couples costumes for Halloween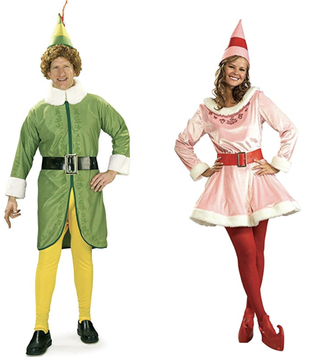 If the thought of your partner in crime adorned with yellow tights and a cone hat doesn't make you chuckle, you're not picturing it properly! If you're taking on Buddy, you'll receive a green fleece jacket with all the trimmings, a black belt, some yellow leggings, and a cone hat. The Jovi costume includes the pink dress shown, a red belt with a gold-tone buckle, a pair of red shoe covers, and a cone hat. No tights though... sorry, Jovi! UK shoppers, check out the Buddy The Elf costume, £33.99 on Amazon and Jovi's Costume, £68.48.
If you're buying from the US, good news it's a bundle set! Buddy The Elf and Jovi Couples Costume Bundle Set, $82.64, Amazon.
11. Best Walmart Halloween costume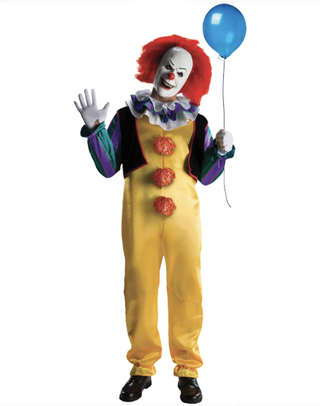 If you're looking to scare the life out of people of all ages... we've found the costume for you. It's made from 100 per cent polyJester (sorry, we couldn't resist the spelling pun)... Become a vision of nightmares in this creepy clown costume. IT Pennywise Adult Halloween Costume $35.76, Walmart.
12. Best Target Halloween costume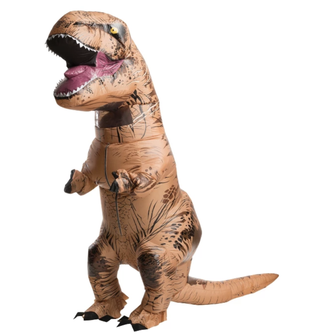 Come onnnn, be that person at the party in the inflatable suit. It's your time. This T-Rex costume is kept inflated and cool with a battery operated fan (you'll need to grab four AA batteries yourself). Target T-Rex costume, $55.
Read more: