Fall is very nearly here, and the changing of the seasons this time of year means it's time to start planning ahead for Halloween. But decorating our homes for the spooky season doesn't have to mean a black and orange overhaul.
Ohh no. Halloween decorations can be a lot more chic, and most importantly, a lot more 'you.' In fact, Etsy has noticed that we're leaning towards sophisticated earthy tones, pastels and metallics when it comes to our Halloween decorating ideas for 2021.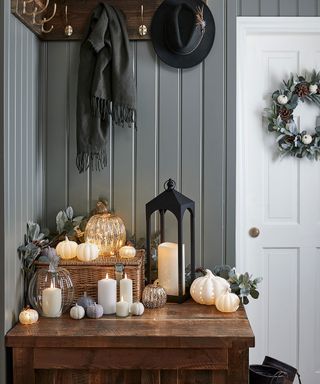 During the last three months, there has been a 41% increase in searches on the Etsy website for earth-tone pastel items, compared to the same time last year. There has also been a whopping 123% rise in searches for pink Halloween items.
We are certainly coming up with new and original color schemes for our spooky displays, instead of automatically opting for the classic hues. This shift away from orange and black reflects the fact that we're now more confident with color than we were in previous years.
Nowadays, we're keen to experiment with color combinations we love and want to curate a display that works within the existing aesthetic of our homes, whether it's modern farmhouse or Victoriana.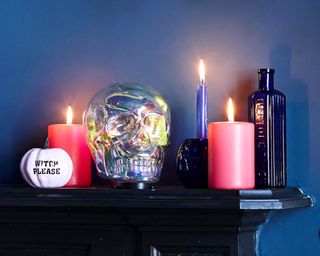 The rise in search around earth-tone pastels makes perfect sense to us. We're predicting pastel color schemes and lavender in particular to become an increasingly popular choice for our homes.
As well as finding some Halloween decor pieces to give your home a seasonal update, be sure to browse the best kids' Halloween activities to keep the family entertained.
As well as pinks and pastels, there was a 54% increase in searches on Etsy for metallic, glitter, or holographic Halloween items. This implies that those with a penchant for anything that sparkles are seeking out pieces that will complement their existing fall decor.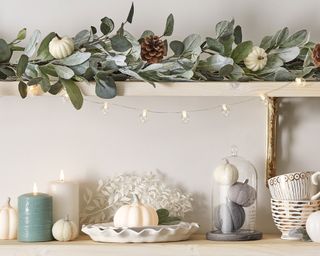 This shift in Halloween color trends comes as retail company Ballard Designs introduces some brand new pieces for fall. The online retailer says blue is the new orange, and that we're redefining how our homes look during this season, ready for what they're calling 'chic-o-ween.'
Ballard Design's blue faux gourds are a stylish alternative to bright orange pumpkins that remind us of Studio McGee, and you can use them year after year. We love the idea of adorning our dining tables with plum and forest green hues this season and displaying a warm-toned wreath to create a joyful entryway.
One thing's for sure, we won't be limiting our palette to orange and black.