By now, you've probably seen Great Jones cookware artfully arranged on your Instagram feed—the up-and-coming brand is well-loved by everyone from influencers and home chefs to food writers and for good reason.
Not only are the colorful pots, pans, and bakeware aesthetically pleasing and cheerful, they're made to last for decades—even if you spend a lot of time in the kitchen—so if you're thinking of giving your kitchen cookware a refresh, now's the chance to jump on it.
This weekend Great Jones has announced its first ever sale—in the form of 20 percent off all on-site orders over $100. Whether you're hoping to freshen up your own bakeware or you're looking for a unique Christmas gift, you won't want to sleep on this.
Below, we've outlined a few of the prettiest (and most practical) Great Jones items that meet the $100 minimum to take advantage of the sale.
Hoping to score big for Black Friday? The deals are continuing through the weekend and into Cyber Monday and we're here to ensure you have access to all the top offers without having to weed through the depths of the internet. Be sure to check back our master list of Black Friday deals to stay informed.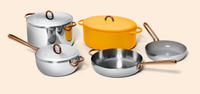 Great Jones Family Style Set | Was $470, now $376
Currently on offer for $376, the Great Jones Family Style is the perfect gift for anyone moving out on their own—or, well, for you if you're hoping to streamline your kitchen equipment. Featuring a colorful Dutch oven, stockpot, and ceramic, non-stick frying pans, this complete set is all you'll need to get your home chef on.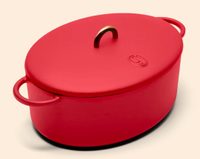 Great Jones The Dutchess Dutch Oven | Was $155, now $124
We're not sure what we love more about this cheery dutch oven—the cheeky name or the high quality make. Crafted using cast iron and enamel, this heavy duty oven is both resiliate, easy to clean, and very, very cute.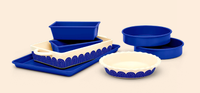 Great Jones Fully Baked Set | Was $285, now $228
Have someone on your list who took up baking in quarantine? Give their baking supplies a refresh with this gorgeous Fully Baked set. Featuring everything one could possibly need to bake desserts, breads, and morning pastries, this colorful set will make anyone want to become a better baker.