As if Ikea garden furniture wasn't already affordable enough, you can now make an extra 20% saving with this hack. Great news if you've spent lockdown nurturing your garden and want a spot to enjoy the fruits of your labour. And just in time for the summer of al fresco dinner parties, we foresee.
Whether you're creating an outdoor living area, or want a slimline solution for a teeny-tiny balcony, we all know by now that Ikea is the place to go, with their solution-focused design philosophy which caters to the masses. But you want to know about that discount, right? Well, here's everything you need to know...
You need to have one of Ikea's Family Cards to benefit from some of the amazing offers we'll be talking about below. Good news is it's free and easy to sign up, so you'll be able to start making savings straight away.
Discover everything you need to know below, along with some of our favourite Ikea garden furniture that's currently available with an impressive 20% off for Ikea Family members. And if you're desperate to make a saving now, check out our deals hub.
As we mentioned above, by becoming an Ikea Family member you'll have the opportunity to make savings across the store straightaway. Some of our favourite perks include:
Member discounts
Ikea offer store-wide discounts to Ikea Family members, with the opportunity to make savings on everything from garden furniture (which we'll talk about more below) to everyday essentials. Items available with a discount vary from month to month, so you'll get the opportunity to pick up many new and exciting items with a tasty discount throughout the year.
Specialist workshops
Members also have the opportunity to benefit from the expertise of Ikea employees, with regular workshops providing everything from design inspiration to practical renovation advice and much more.
Free tea and coffee
Ikea Family members can also claim a free tea or coffee from Monday to Friday on presentation of their Ikea card.
Ikea garden furniture: save 20% with a Family member
Signed up or thinking about it? Here are our favourite Ikea garden furniture savings.
1. Design your dream outdoor living area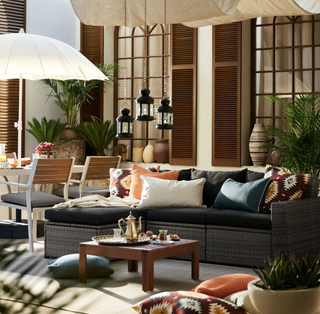 SOLLERÖN 3-seat Modular Sofa | Was £547, Now £463 for Ikea Family members
Creating an outdoor living space is an easy way to make your home feel larger, without extending. Plus, it creates the perfect spot for dining and unwinding.
2. Yep, even if you have a balcony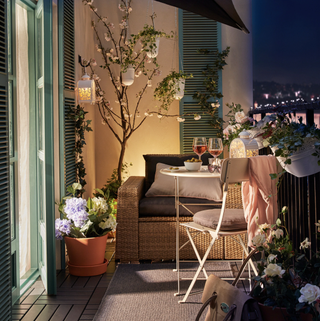 SOLLERÖN Armchair | Was £205, Now £171 for Ikea Family members
And just because you don't have a large garden, it doesn't mean you can't enjoy an outside dining space. As this gorgeous armchair proves, there's potential to design a cosy area, no matter the size of the space you're working with.
3. Create custom garden furniture with this modular set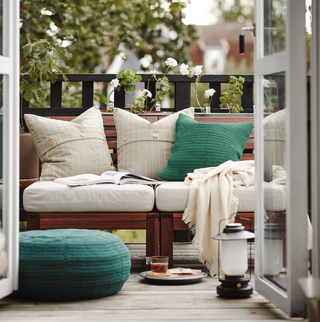 ÄPPLARÖ Modular Sofa Section | Was £60, now £48 for Ikea Family members
The beauty of modular garden furniture is that it can be completely customised depending on your preferences and the space that you're working with. Styled with plenty of cushions, blankets and other soft furnishings, it's the perfect spot to unwind after a long day.
4. This set-up offers garden furniture and storage in one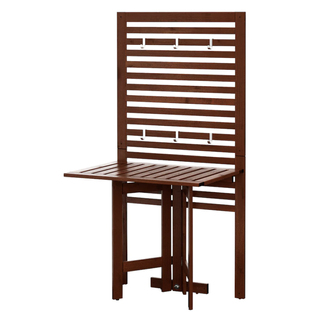 ÄPPLARÖ Garden Table | Was £70, Now £56 for Ikea Family Members
If you're trying to make the most of a super small garden, this might be the answer for you. Not only does this stylish set-up offer a spot to enjoy your morning coffee, it also boasts plenty of storage potential (see below). We love the idea of hanging small pots from the wall panel to create a stylish living wall.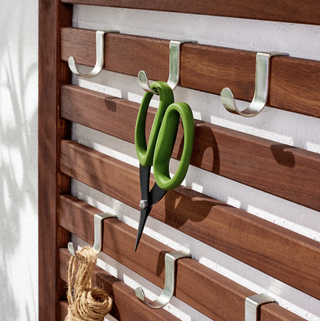 5. Add interest with these stylish outdoor dining chairs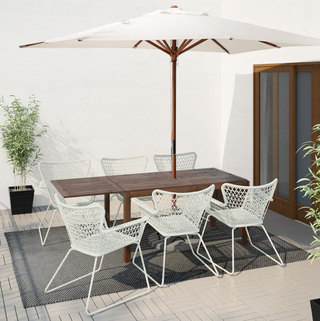 ÄPPLARÖ / HÖGSTEN Dining Set | Was £490, now £470 for Ikea Family members
This six seater dining set is perfect for those looking to set up a spot for al fresco dining with all the family and – once lockdown is lifted – with friends too. Stunning white wire chairs make a subtle statement and are sure to work in almost any garden scheme.
6. Make the most of stylish garden storage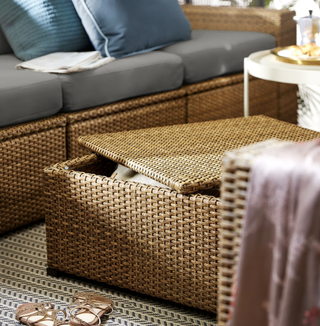 SOLLERÖN Outdoor Stool | Was £60, now £48 for Ikea Family members
Need somewhere to store all the cushions you'll be styling your garden furniture with? This handy stool not only provides plenty of space to do so, it also doubles up as a foot rest for ultimate relaxation.
7. Make the most of a super small outdoor space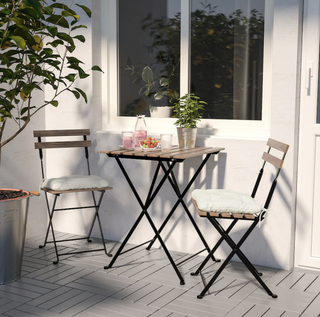 TÄRNÖ Dining Set | Was £35, Now £28 for Ikea Family members
Perfect for even the smallest of outdoor spaces, this modern take on the traditional bistro set is the perfect spot to enjoy your morning coffee or unwind at the end of the day. And for under £30, we really don't think you can go far wrong.
Also available in a firey red finish you may have seen above.
8. Prepare for summer dinner parties with this extendable outdoor dining table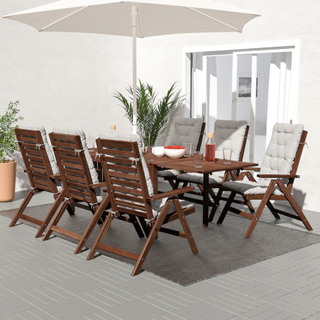 ÄPPLARÖ Extendable dining table and chairs | Was £360, Now £296 for Ikea Family Members
Right now we can still only meet with groups of up to six people outdoors, but there's some suggestion that the number could increase as the summer progresses. Prepare for a summer of al fresco dinner parties with the help of this super stylish extendable dining set.
Make more savings on gorgeous garden furniture