If the grocery store is running low on your favorite dips and spice blends, or you just want to try your hand at making your own hummus, food processors are the way to go. Many food processors come with a variety of attachments, allowing you to chop, blend and spiralize all sorts of fresh produce and cabinet staples. Now's the time to get smart with food prep and inventive with using up what's in your fridge, so we've been sharing the best smoothie recipes, flatbread recipes and hummus recipes out there to help you stay inspired and resourceful. And what do those recipes all have in common? It's a whole lot easier to make them with a food processor.
We're loving the Macy's sale right now, with between 15 and 20 percent off every food processor on-size. What's more, you can combine almost all of the Macy's savings we've picked out in this best deals guide with a limited-time discount code. Using code FORYOU will snag you an extra 15 percent discount on many of our top pick models, so act quick to double up on discounts.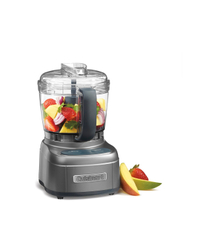 Cuisinart Elemental 4-Cup Chopper-Grinder | Was $49.99, now $39.99 at Macy's
Save $10 - The Cuisinart 4-cup chopper is great for chopping, grinding, and puréeing your own dips and spice mixes, and it's under $40.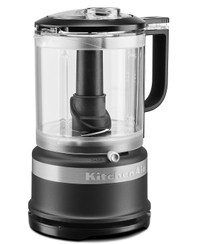 KitchenAid 5-Cup Food Chopper | Was $74.99, now $59,99 at Macy's
Save $15 - Chop, puree, whip or mix with this five-cup food chopper. It also comes with a whip attachment and a drizzle lid, perfect for making pesto and other dips.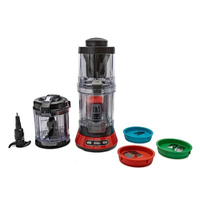 Ninja 400W 4 Cup Food Processor with Auto-Spiralizer | Was $129.99, now $84.99 at Target
Save 35 percent - This does-it-all processor handles everything from chopping and mixing to dough making and pureeing. The auto-spiralizer includes spaghetti and fettuccine blade discs to create versatile veggie noodles.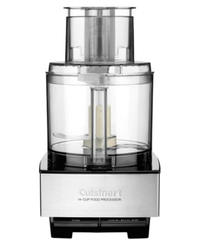 Cuisinart Custom 14-Cup Food Processor | Was $287.99, now $229.99 at Macy's
Save 20 percent - This 14-cup does-it-all model features slicing & shredding discs, a chopping & mixing blade.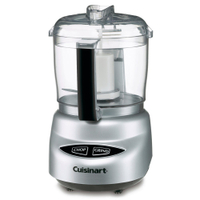 Cuisinart Brushed Chrome Mini-Prep Plus Processor | Was $59.99, now $42.63 at Overstock
Save $17.36 - With a SmartPower blade, this mini food processor makes quick work of chopping, mincing and pureeing. It's 3-cup capacity is perfect for making guacamole or salsa, or blending up a spice mix.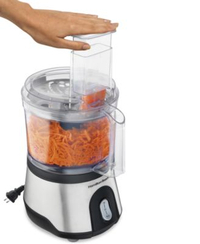 Hamilton Beach 10-Cup Food Processor | Was $62.99, now $49.99 at Macy's
Save 20 percent - A 10-cup capacity allows room for big batches of shredded and sliced fruit and vegetables, and the large lid tube fits a whole block of cheese.