The least expensive way to update your wooden floors? With floor stencils and paint! Yup, you can learn how to paint tiles, easily and, while this decorative hack from Rustoleum may seem like it needs the steady hand of the true artist, with a stencil and some patience, this amazing mosaic effect is so easy to achieve. If you're looking to revamp tired floors or inject pattern into a simple space, grab a few tins this weekend and let your floor become your canvas.
If you want to try your hand at more DIY hacks, check out our other weekend projects.
You will need
Step one: prepare your floor
If you have wooden floorboards, sand them down. For both wooden and concrete floors, vacuum and wipe them clean before painting.
Step two: apply your base colour
Paint the edges of your room in your base colour (Chalk White used here), cutting in a couple of inches. Take your large roller and paint at least two coats onto the main floor area, starting at the furthest corner and moving backwards towards the door. The thinner the coats, the more hardwearing your floor will be.
Step three: position your stencil
Measure your floor to find its centre. Use masking tape to position your chosen stencil at the middle so it doesn't move around while you're painting.
Step four: paint your stencil design
Apply a small, even amount of your second floor paint over the stencil (Anthracite used here). Remove the stencil, reposition and repeat until the whole floor is covered. Leave to dry and there you have it, one stylishly patterned floor for under £100.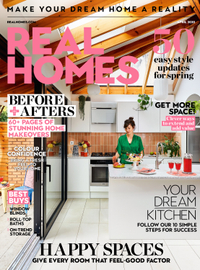 Subscribe to Real Homes magazine
Want even more great ideas for your home from the team at Real Homes magazine? Subscribe to Real Homes magazine and get great content delivered straight to your door. From inspiring completed projects to the latest decorating trends and expert advice, you'll find everything you need to create your dream home inside each issue.

More projects to try: