If you've got hard floors, then you're probably well acquainted with your mop. Whether it's muddy footprints, food stains or pet paw prints, there always seems to be something that needs cleaning up. But which floor mop is really the best for tackling dirt? We put three of the leading mops to the test as part of the Real Homes Show. Watch the test now and then take a look at the results below.
And if you want to buy one of the shortlist, browse our best floor mop buying guide.
The contenders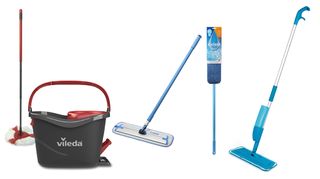 The results
We tested each mop for how much storage space it needed; ease of use; how well it tackled muddy floors; and how easy it was to keep the mop clean. Here's how they fared.
1. Storage space
Traditional mops are all well and good, but finding somewhere to store the mop and bucket can be a headache, particularly if you live in a small home without much storage. For that reason, the E-cloth and Beldray mops came up trumps as they require minimal storage space. The Beldray's refillable water tank is attached to the handle, while the E-cloth requires nothing but a slim pad, which you soak in water to clean.
Joint winners = E-Cloth Deep Clean Mop and Beldray Refillable Floor Mop
2. Ease of use
All three mops were easy to use. The Vileda mop and bucket has a unique triangular head that's perfect for getting into corners, and the foot-operated wring function makes it much easier to use than a traditional mop, however, it is bulky to move around. The Beldray has a removable, 350ml refillable tank, which you add water and detergent to, and you then pull a trigger to release. It's lightweight but the handle isn't adjustable, so bear that in mind if you're shorter or taller than average. The clear winner here, though, is the E-cloth Deep Clean Mop. You simply pull off the cleaning pad, which attaches to the mop head with Velcro, soak it in water and then reattach. It's also the most lightweight of the three.
Winner = E-cloth Deep Clean Mop
3. Tackling muddy floors
Cleaning up tough dirt is where the Vileda Turbo Mop really came into its own. The dense microfibre head picked up every bit of dirt with easy, and it was simple to rinse it out and the wring using the foot pedal. A couple of swipes was all it took to pick up all of the dirt in our test. The E-cloth Deep Clean Mop performed brilliantly considering you can't rinse it out in a bucket mid-way through like you can with a traditional mop. The Beldray Refillable Mop moved the dirt around a little more than the others, but the spray function allowed us to get rid of all the muck, it just took a little longer.
Winner = Vileda Turbo Mop and Bucket
4. Keeping the mop clean
It's one of life little annoyances that mops don't keep themselves clean! Even the most basic model needs a regular rinse to keep it working its best. We love that the cleaning heads on all three mops can be rinsed under the tap if lightly soiled or popped in the washing machine on a 60ºC wash for more stubborn staining.
Winners = All three!
Which should you choose?
If you've got a busy family home with floors that regularly get mucky, we'd opt for the Vileda Turbo Mop. It tackled dirt the best in our test and was easy to use, but you need room to store the bucket, which is quite large.
If you've got a smaller home, we'd go for the Beldray Refillable Mop, which takes up minimal storage space, thanks to its built-in water tank. It didn't pick up quite as much dirt as the others, so it's best suited to a quick mop rather than a deep clean.
If you want to be environmentally friendly, opt for the E-cloth Deep Clean Mop. Not only is it easy to use, store and clean, it doesn't require anything more than a splash of water. There's no need for detergents and the head can be washed up to 300 times.