We're all searching for a little more calm in our lives, so it's no surprise that natural textures like rattan, wood and bamboo are making waves in the interiors world. But these items can often come with a hefty price tag.
With a little know-how and a spare weekend, you can introduce these tranquil textures to your existing furniture at a fraction of the cost of buying brand new.
We're head over heels in love with this upcycled DIY rattan sideboard by Debbie Goodwin @fixingupfarnley, so we chatted to her to share exactly how she did it.
The before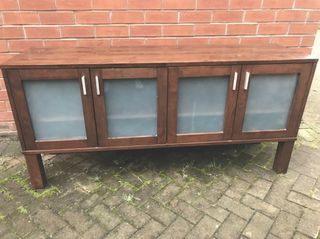 Debbie bought this second hand sideboard on Ebay for just £38. It was solid and in fairly good condition, but not the most beautiful of pieces. Debbie is a dab hand at DIY and has a natural eye for interiors, so she could see past the strange frosty glass and envisage its real potential.
The first thing Debbie did was remove the glass from the cabinet doors, sand down the wood and clean it with sugar soap.
She then applied two coats of paint – a mixture of Farrow & Ball's Dead Salmon and Sulking Room Pink, before covering with a sealant for extra durability.
The during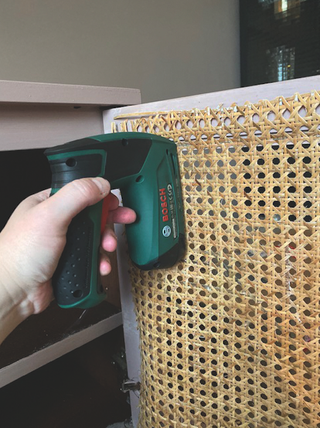 Debbie bought pieces of rattan from Willow Growers which she cut to size so they'd fit perfectly onto the cabinet doors. One of her top tips is to soak the rattan in warm water before you begin, as this will help to soften the material and make it easier to use.
She then dried it gently with a towel, held it taught and attached it to the back of the doors with a staple gun, as shown here.
The after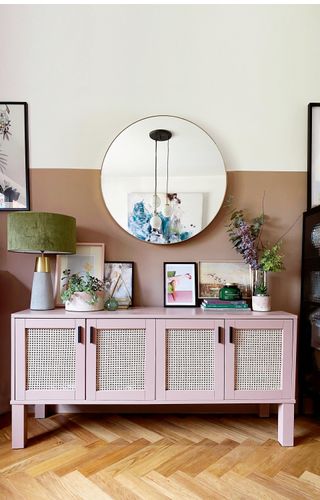 How beautiful is the final result?! She completed the look by wrapping black washi tape around the handles for a cool, contemporary contrast. We'd say this looks like its worth a whole lot more than £38, some leftover paint and some rattan swatches– which just goes to show what you can achieve with some DIY know-how and a lot of imagination! Debbie Goodwin – we salute you!
Head here to tour the rest of Debbie's amazing home. And if you want to attempt a similar makeover, see if you can get everything you need with eBay discount codes.